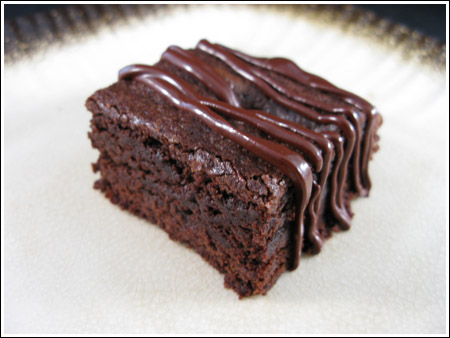 Ghirardelli Chocolate Caramel Brownies
Author: Cookie Madness
Prep time: 10 mins
Cook time: 25 mins
Total time: 35 mins
Ghirardelli Chocolate Caramel Brownies made with sweet ground cocoa powder and caramel candies
2 large eggs
1/4 cup sugar
1 teaspoon vanilla
1/2 cup (4 oz) unsalted butter, melted
1 1/4 cup Ghirardelli sweet ground chocolate and cocoa
2/3 cup all purpose flour
1/4 tsp. baking powder
1/4 tsp. salt
16 Ghirardelli Dark Chocolate Caramel Squares
1/2 cup Ghirardelli bittersweet chocolate chips
Preheat oven to 350 degrees F. Line an 8 inch square metal pan with non-stick foil or parchment.
Whisk together eggs, sugar and vanilla. Add melted butter.
Sift ground chocolate with flour, baking powder and salt and stir into egg mixture. Spread half the batter into prepared pan. Place chocolate covered caramel in single layer on top of batter. Cover with remaining batter. Spread with spoon to cover completely. Bake 20-30 minutes. Let cool. Cut into 9 squares.
Place the chips in a heavy duty freezer bag (must be a freezer bag!). Microwave on high for 30 seconds. Massage bags to melt chips. Repeat until chips are melted. If your microwave has multiple levels, microwave for 1 minute on 60% power and massage bag at 1 minute intervals. Snip off a tiny bit from the bottom corner of the bag and drizzle over brownies.
Recipe by
Cookie Madness
at https://www.cookiemadness.net/2008/04/ghirardelli-chocolate-caramel-brownies/