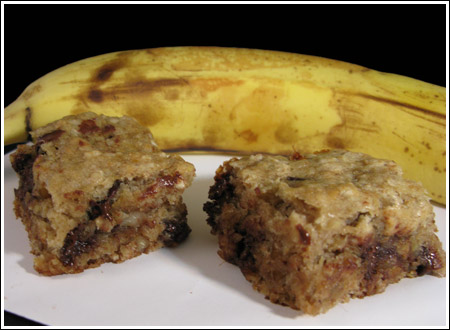 Banana Walnut Chocolate Chip Bars (Vegan Option)
Author: Cookie Madness
Prep time: 10 mins
Cook time: 25 mins
Total time: 35 mins
Banana Walnut Chocolate Chip Bars that can be made in the usual non-vegan way, or made vegan by using vegan chocolate chips and a mixture of flax and watear in place of egg.
3/4 cup all purpose unbleached flour or white whole wheat
1/2 teaspoon salt (use 1/4 if using salted vegan spread)
1/4 teaspoon baking soda
4 tablespoons unsalted butter, softened, or vegan spread
1/2 cup light brown sugar, firmly packed
1 large egg or 1 tablespoon ground flax mixed with 3 tablespoons hot water**
1 1/2 ripe bananas, mashed or pureed (a little over 3/4 cup)
1 teaspoon vanilla extract
3/4 cup quick cooking oats or old fashioned oats buzzed in processor
1/4 cup semi-sweet chocolate chips or chopped vegan approved chocolate
1/3 cup toasted walnut pieces
Preheat oven to 350 degrees F. Line an 8 inch square pan with non-stick foil or parchment.
Mix together flour, salt and baking soda.
In a mixing bowl, beat together butter and brown sugar. Beat in egg (or flax), bananas and vanilla.
Add flour mixture to banana mixture and stir until absorbed, then stir in oats, chocolate chips and walnuts. Spread batter in the pan and bake for 25 minutes or until set. Set pan on a rack to cool, then lift from pan and cut into 16 squares or 12 bars.
Recipe by
Cookie Madness
at https://www.cookiemadness.net/2008/04/28/banana-walnut-chocolate-chip-bars-vegan-option/