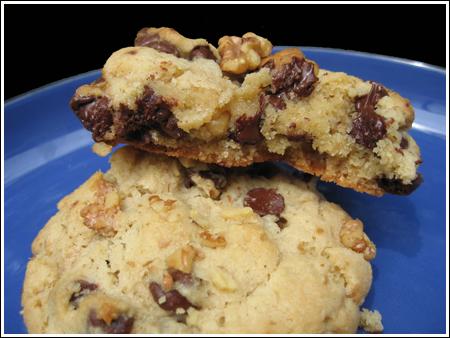 Not So Small Batch Levain Copycats
Author: Cookie Madness
Prep time: 1440 mins
Cook time: 20 mins
Total time: 24 hours 20 mins
You can play around with the flour a bit. I like using a mixture of cake and bread flour or ALL all-purpose. The cornstarch helps the dough absorb liquid from the butter and eggs, so I've added a pinch.
1 cup cake flour (114 grams) (or just use AP)
1 3/4 cup bread flour (220 grams) (or just use equivalent AP)
1-2 teaspoon cornstarch (not critical, but helps with thickness)
3/4 teaspoon baking soda
1 teaspoon salt
1 cup unsalted Land o Lakes butter (230 grams), cold and cut into small chunks
3/4 cup lightly packed light brown sugar (145 grams)
1/2 cup granulated cane sugar (100 grams)
2 large eggs or use 1 extra large egg and 1 egg yolk
1/2 teaspoon vanilla extract
1 cup toasted and chopped walnuts
1 cup best quality semisweet chocolate chips (you can use more or less)
This dough must be chilled thoroughly for best results, so no need to preheat the oven until ready to bake.
Mix together the flours, cornstarch, salt and baking soda and set aside. It's always nice to get that part out of the way, plus it gives you time to properly measure and weigh your flour.
In a large mixing bowl, beat the butter until it is creamy. Add both sugars and beat until blended, then reduce speed and add the eggs, one at a time, and vanilla. Be sure to scrape the sides of the bowl.
Now add the flour mixture gradually, stirring or beating on low until it is fully blended, then stir in the walnuts and chips.
Turn dough out onto a clean surface and bunch it up into a big ball. Divide into six equal lumps (or make six 6 oz cookies). Arrange on a tray or two large plates, cover, then chill overnight.
When ready to bake, preheat the oven to 350 convection setting. I do this in a Breville Toaster Oven with Convection and bake 3 at a time for about 18 minutes. Allow them to sit and thoroughly cool. They'll seem slightly doughy in the center, but once they cool and set they taste good.
If you don't have a convection oven, heat the oven to 400 degrees F. Put the cookies in the oven and then immediately reduce heat to 350. Bake for about 20 minutes or until the cookies are browned and cracked.
Having made these about a million times in several different kitchens, I can tell you that the bake time will vary. I love making these in my convection toaster oven because it browns them quite nicely. When using a regular oven, I get the oven very hot, put the cookies in, then reduce the heat to a more reasonable temperature so the cookies will bake somewhat more evenly.
Recipe by
Cookie Madness
at https://www.cookiemadness.net/2008/05/06/super-small-batch-levain-copy-cats/