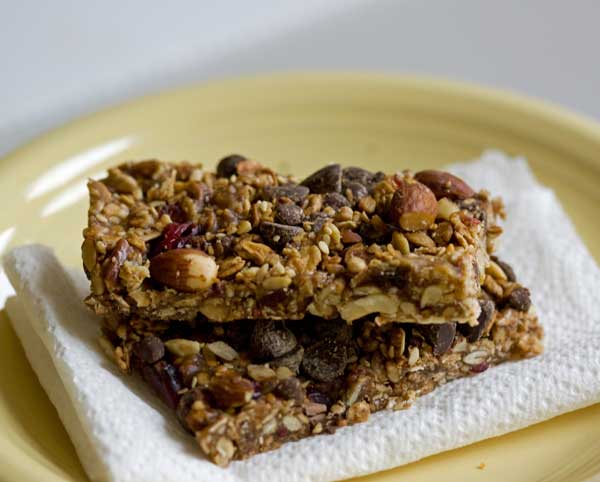 Author: Cookie Madness
An easy no-bake granola bar recipe made with granola
4 tablespoons unsalted butter
1/8 teaspoon salt
1/2 cup plus 2 tablespoons packed light-brown sugar
3 tablespoons honey
3 tablespoons maple syrup
1 teaspoon vanilla
3 cups granola
1/2 cup frozen semisweet chocolate chips
1/2 cup toasted and chopped almonds (or 1/2 cup trail mix, chopped)
1/2 cup raisins (or use another 1/2 cup trail mix, chopped
Line a 9x13 inch pan with nonstick foil. If making a half batch, use an 8 inch pan.
Melt the butter in a nonstick saucepan. Stir in the salt, sugar, honey and maple syrup and bring to a boil. Boil gently for 2 minutes to dissolve the sugar, then remove from the heat and let cool for about 5 minutes. Stir in the vanilla and let cool for another 10 minutes, but not so long that it becomes stiff. The point of letting it cool is so that it's not so hot as to melt the chocolate.
Meanwhile, crush the granola with a rolling pin. Combine the crushed granola with the cold chocolate chips, nuts and raisins (or trail mix).
When the sugar mixture has cooled slightly, stir it into the granola mixture
Stir until fully blended, then press it as tightly as you can into the pan. Let cool at room temperature for about a half hour, then score the bars without separating. Chill until firm. Lift from the pan and separate the bars.
Recipe by
Cookie Madness
at https://www.cookiemadness.net/2012/06/26/no-bake-granola-bars/