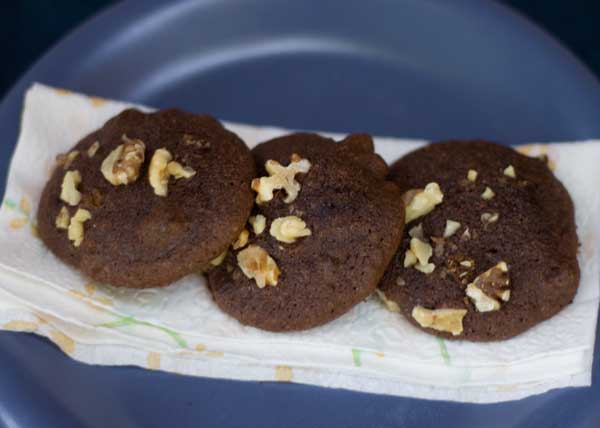 Coconut Flour Double Chocolate Cookies
Author: Cookie Madness
A gluten free double chocolate cookie made with coconut flour.
4 tablespoons unsalted or salted butter, softened
2/3 cup granulated sugar
2 large eggs
1/2 teaspoon vanilla extract
1/3 cup unsweetened cocoa powder , I used Penzey's natural
1/4 cup plus 1 tablespoon coconut flour, I used Coconut Secret
1/2 cup gluten-free chocolate chips
1/2 cup toasted and chopped walnuts
Preheat oven to 350°F. Have ready an ungreased or foil lined baking sheet. You can use parchment or nonstick foil, but it might cause the cookies to spread a little more.
With an electric mixer, beat the butter and sugar until light and fluffy. Add eggs one at a time, beating well after each addition. Beat in vanilla. Stir in the cocoa powder and beat until smooth, then stir in the coconut flour. Add the chocolate chips. At this point you can also stir in the walnuts, or you can leave them out and just sprinkle them on top of the unbaked cookies.
Let the cookie dough sit for about 5 to 10 minutes to thicken (coconut flour absorbs moisture).
Drop the cookie dough by rounded teaspoonfuls onto a baking sheet, leaving 2 inches between cookies. Bake 13 minutes, or until cookies are slightly set in the center. Allow cookies to cool on baking sheet for a few minutes before transferring to a wire rack to finish cooling.
The brand of coconut flour you use might affect the cookie. I used a brand called Coconut Secret. Total weight was 34 grams.
Recipe by
Cookie Madness
at https://www.cookiemadness.net/2012/07/gluten-free-double-chocolate-cookies-with-coconut-flour/