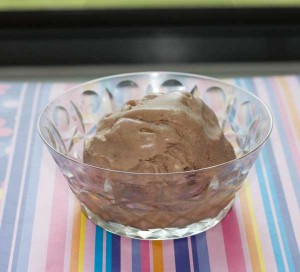 JIF Hazelnut Joy Ice Cream
Author: Cookie Madness
Prep time: 10 mins
Cook time: 240 mins
Total time: 4 hours 10 mins
Rich and creamy ice cream that combines chocolate hazelnut and coconut flavors.
3/4 cup heavy cream (optional)
2/3 cup chocolate hazelnut spread, such as JIF
1 (15 oz.) can cream of coconut, the kind used as a bar mixer**
2 cups half-and-half
Beat 3/4 cup of heavy cream until stiff peaks just start to form. Set aside.
Beat chocolate hazelnut spread and cream of coconut in large bowl with electric mixer on medium speed until smooth. Stir in half-and-half. Beat until well blended, about 1 minute. Fold in whipped cream 1/3 cup at a time, taste testing for sweetness
Scrape into ice cream maker and freeze according to manufacturer instructions.
Scrape into container. Cover and freeze for 4 hours.
This recipe freezes well. Cut each ingredient in half and process as usual.

I have not yet tested the recipe with canned coconut cream (like Trader Joe's), but plan to. Canned coconut cream and coconut milk is not as sweet as cream of coconut, so the recipe would need extra sugar.
Recipe by
Cookie Madness
at https://www.cookiemadness.net/2012/07/08/jif-hazelnut-joy-ice-cream/