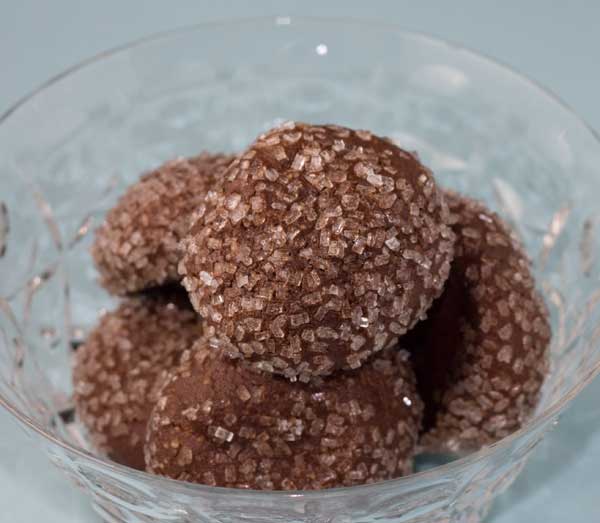 Chocolate Sparkle Cookies
Author: Cookie Madness
Total time: 12 hours 10 mins
A rich chocolate cookie made with almond flour -- perfect for cookie exchanges and Christmas
3 tablespoons unsalted butter
8 ounces good quality bittersweet chocolate, chopped
2 large eggs, room temperature
1 pinch salt
1/3 cup granulated sugar
1 tablespoon honey
3/4 cup almond flour or finely ground almonds
2 teaspoons good quality natural or Dutch cocoa powder
Sparkly or coarse sugar for rolling
Melt the butter in a microwave-safe bowl or large Pyrex liquid measuring cup. Add the chocolate to the hot butter and stir until it is almost completely melted. Return mixture to the microwave and heat at 50% power, stirring every 30 seconds, until completely melted. Set aside.
In a mixing bowl, beat eggs with an electric mixer for about 3 minutes. Gradually add the salt, sugar and honey and continue beating for about 3 to 5 more minutes or until the batter is thick and foamy. Fold in the chocolate-butter mixture. Add the cocoa powder to the almond flour and stir that mixture into the chocolate mixture.
Cover and refrigerate for about 2 hours or until thick enough to shape. Scoop up heaping teaspoonfuls and shape into about 30 balls. Put the balls on a tray or plate, cover with plastic wrap and chill overnight. Before baking, roll balls in sparkling sugar.
Preheat the oven to 325 degrees F. Arrange sparkly dough balls on a parchment or nonstick foil lined baking sheet about 2 inches apart and bake for 12 minutes or until just set (moist, but not wet). Let cool completely. You should get about 30 pieces.
Note: Just to make sure your oven is in sync with the recipe, you might want to make two test cookies to get the timing down. The perfect time in my oven was 12 minutes, but ovens vary, so you may want to check at 10. Timing will also vary if you've made your cookies smaller.
Recipe by
Cookie Madness
at https://www.cookiemadness.net/2012/07/10/sparkling-chocolate-cookies/