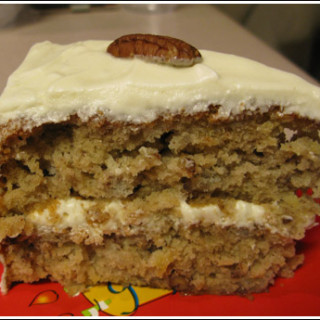 Author: Cookie Madness
Prep time: 20 mins
Cook time: 30 mins
Total time: 50 mins
Hummingbird Cake is a two (or three) layer cake made with bananas, pineapple, and nuts.
3 cups all-purpose flour
1 teaspoon baking soda
1 teaspoon salt
2 cups sugar
1 teaspoon ground cinnamon
3 large eggs, beaten
1 1/2 cups vegetable oil**
1 1/2 teaspoons vanilla extract
1 (8-ounce) can crushed pineapple, undrained
1 cup chopped pecans
2 cups chopped bananas
1/2 cup chopped pecans
Cream Cheese Frosting
1 pound cream cheese, softened
2 sticks (8 oz) butter (unsalted, softened)
3 cups powdered sugar, sifted
1 teaspoon vanilla extract
Pinch or two of salt – omit if using regular salted butter
Preheat oven to 350 degrees F. Spray 3 9-inch round cake pans with flour-added cooking spray or rub with shortening and dust with flour.
Stir flour, soda, salt, sugar and cinnamon together in a large mixing bowl; add eggs, oil and vanilla, stirring until dry ingredients are moistened. (Do not beat.) Stir in pineapple, pecans, and bananas.
Pour batter into cake pans and bake for 25-30 minutes or until a wooden pick inserted in center comes out clean. Cool in pans on wire racks 10 minutes; remove from pans, and cool completely on wire racks.
Prepare cream cheese frosting. Beat cream cheese and butter at medium speed with an electric mixer until smooth. Gradually add powdered sugar, beating at low speed until light and fluffy - taste after adding 2 cups. Add more sugar if you prefer it to be sweeter. Beat in vanilla. Add a pinch of salt if using unsalted butter.
Spread Cream Cheese Frosting between layers and on top and sides of cake; sprinkle 1/2 cup chopped pecans on top.
While it might be tempting to cut the oil, the results won't be quite as good. The cake will be less flaky and more like banana bread. For best results, stick with the original 1 1/2 cups oil.
Recipe by
Cookie Madness
at https://www.cookiemadness.net/2008/05/hummingbird-cake/