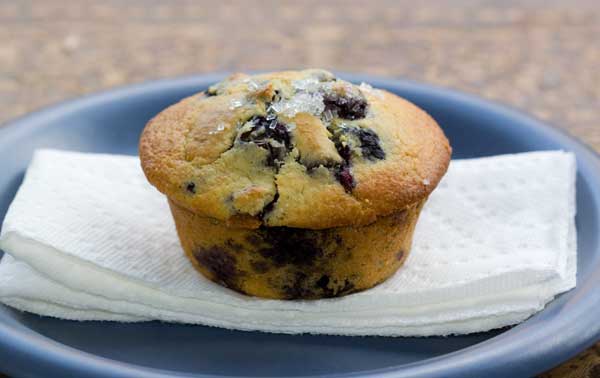 Blueberry Corn Muffins with Protein Powder
Author: Cookie Madness
Blueberry and corn muffins with added protein
3 tablespoons Pure Protein® Vanilla Crème powder
1/2 cup all-purpose flour
1/2 cup fine cornmeal
3 tablespoons sugar (I used equivalent sugar substitute)
1/4 teaspoon salt
1 teaspoon baking powder
1/4 teaspoon baking soda
1 egg, room temperature
1 1/2 tablespoons melted butter
3/4 cup buttermilk, room temperature
Zest of a lemon
1 cup fresh blueberries or raspberries
Heat oven to 400ºF. Spray 6 muffin cups with flour-added spray.
Combine the dry ingredients in a large bowl and stir well.
In a separate bowl, whisk together the egg, melted butter and buttermilk. Stir in the lemon zest. Add the berries to the dry ingredients and mix until they are coated with flour (I didn't do this, I just dumped the berries in last).
Pour in the buttermilk mixture and fold the wet and dry ingredients together until just blended. Fill each muffin cup with about ½ cup batter or just divide batter evenly among the cups – my batter came to the top of the cups. Also, I had a little bit of extra batter.
Bake 18 to 20 minutes until golden brown and firm to the touch. Cool for 10 minutes and remove muffins from the tin.
Original recipe called for 12 muffins. I halved it and had enough batter for more than 12 muffins, but that may have just had to do with the size of the muffin tins. You can make the muffins whatever size you want. I did notice that when filled to the top of the muffin tin, the batter did not spread, but rose slightly.
Recipe by
Cookie Madness
at https://www.cookiemadness.net/2012/07/blueberry-corn-muffins-with-protein-powder/