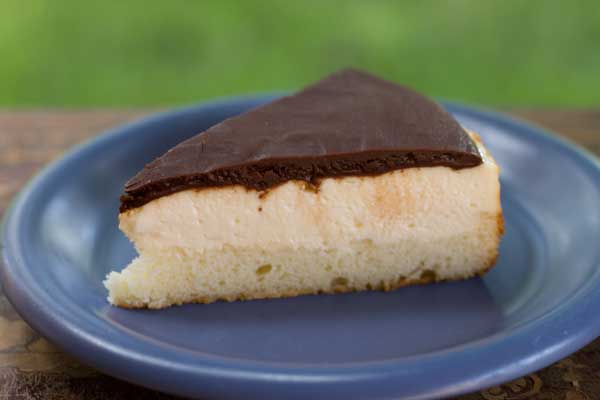 Author: Cookie Madness
Total time: 5 hours 30 mins
Yellow cake with a layer of cheesecake and chocolate glaze on top.
Base
1 (9 ounce) box of yellow cake mix plus ingredients called for on box or a half batch of your favorite 18.25 oz mix OR scratch yellow cake**
Middle
16 ounces of cream cheese, softened
1 teaspoon vanilla
1/2 cup granulated sugar
1/2 cup sour cream
2 large eggs, room temperature
Topping
3 tablespoons butter
2 ounces unsweetened chocolate, chopped
1 cup sifted confectioner's sugar (about 3.4 ounces)
2 tablespoons boiling water
1/2 teaspoon vanilla extract
Prepare the cake mix according to package directions and bake in a greased 9 inch round springform pan. Note: Set the pan on a baking sheet to catch any drips. Set aside and let cool completely.
In a large mixing bowl, beat the cream cheese, vanilla and sugar until well blended. Reduce speed to low and add the sour cream, then stir in the eggs (still using low speed and being careful not to overbeat). Pour this mixture over the cake.
Bake for 35 minutes. Let cake cool completely, then loosen from rim and remove made rim. Note: after 35 minutes, cake should still be kind of jiggly in the center. It will firm as it cools and chills.
When cake is completely cool, prepare the icing. Measure out all your ingredients and have them ready to go, and have the 2 tablespoons of water in a microwave-safe measuring cup. Make sure you sift the powdered sugar, especially if you don't weigh out 3.4 ounces.
In a medium saucepan, melt the butter over medium heat. Reduce heat to low and add the chopped chocolate. Stir until smooth. Meanwhile, heat the water in the microwave-safe cup until boiling. Remove chocolate mixture from heat and add boiling water and powdered sugar. Stir well, then add the vanilla and stir until smooth. Pour over the top of the cake and chill for several hours.
**if you decide to use an 18.25 oz box of cake mix, just prepare as directed for 2 9 inch round pans, but use a 9 inch round pan and a 9 inch round springform. Use the cake in the springform and freeze the other layer for something else.
Recipe by
Cookie Madness
at https://www.cookiemadness.net/2012/07/boston-cream-cheesecake/