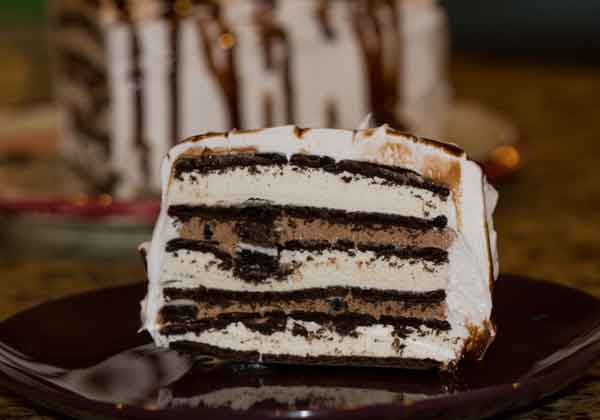 Author: Cookie Madness
Total time: 6 hours 10 mins
Cake made with ice cream sandwiches
3 tablespoons cream cheese, softened
3 tablespoons unsweetened natural cocoa powder
1/4 cup granulated sugar
1/2 teaspoon vanilla extract
2 1/2 tablespoons milk
1 1/2 (8 ounce) cartons frozen whipped topping, thawed
6 Oreos, chopped
12 ice cream sandwiches
In a mixing bowl, stir together the softened cream cheese, and cocoa powder. Slowly add sugar and milk alternately, scraping sides of bowl to make a thin paste. Add vanilla. Using a handheld electric mixer, beat until smooth. Fold in about half a carton (1 ¾ cups) of the whipped topping. Fold in the cookies.
Lay a large sheet of foil on a flat surface. Lay 4 ice cream sandwiches side by side on the foil. Spread half of the chocolate mixture over the sandwiches. Layer 4 more ice cream sandwiches over the chocolate mixture, then layer on remaining chocolate mixture and 4 ice cream sandwiches.
Using some or all of the remaining carton of whipped topping, spread a thin layer all over the cake. At this point it will look pretty shoddy, but that's okay. You'll fix it later. Bring foil up and around cake to make a little container, then set the cake in a pan (just to keep it level) and put it all in the freezer for about 6 hours or until frozen solid. When frozen, remove foil and spread more whipped topping over the cake. Arrange on a nice plate and touch up your whipped topping. Garnish with chocolate syrup or cookie crumbs and slice.
Cook time is actually freezer time. Also, if you make this with mini ice cream sandwiches, you'll only need half of the chocolate filling.
Recipe by
Cookie Madness
at https://www.cookiemadness.net/2012/08/02/ice-cream-sandwich-cake/