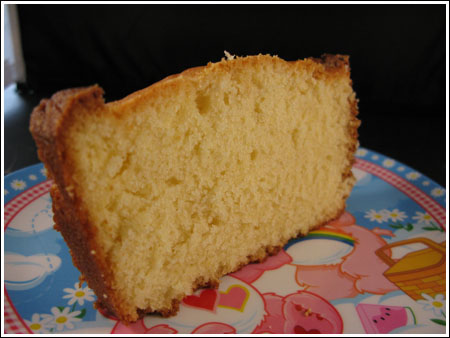 Author: Cookie Madness
Prep time: 15 mins
Cook time: 75 mins
Total time: 1 hour 30 mins
Lemon Yogurt Pound Cake from Stonyfield Farms yogurt.
2 cups all purpose flour (9 oz)
1/4 tsp. baking soda
1/4 tsp. baking powder
1/2 teaspoon salt
12 tablespoons unsalted butter
1 2/3 cups granulated sugar
4 large eggs, room temperature
1 tsp. vanilla (if using vanilla yogurt, use ¾)
2/3 cup Stonyfield Farm plain or vanilla yogurt
3 Tbs. lemon juice
2 tsp. lemon peel, grated
Preheat oven to 325 degrees. Spray a 9x5 loaf pan with flour-added cooking spray.
Sift together flour, baking soda, and baking powder. Stir in the salt.
Cream butter in large mixing bowl. Gradually add sugar, beat until light and fluffy (3-5 minutes). Add eggs, one at a time, beating well after each addition. Add vanilla.
Mix together yogurt, lemon juice and lemon peel. Add dry ingredients and lemon mixture alternately to egg mixture, mixing until dry ingredients are just moistened. Pour batter into pan. Bake 1 hour 15 minutes until lightly brown.
Cool 10 minutes on a rack before removing from pan.
Recipe by
Cookie Madness
at https://www.cookiemadness.net/2008/06/06/lemon-yogurt-pound-cake/