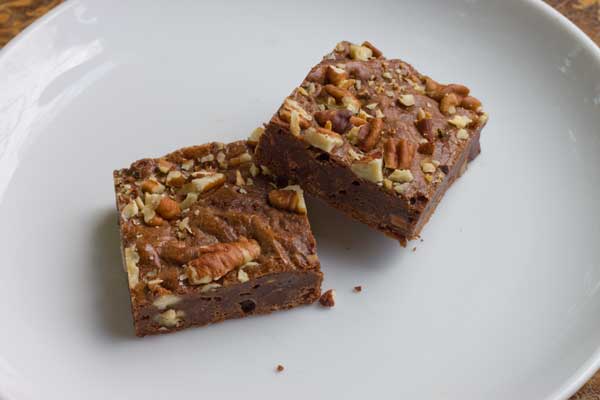 Author: Cookie Madness
Prep time: 10 mins
Cook time: 22 mins
Total time: 32 mins
A reduced fat brownie recipe made with dark chocolate, cocoa powder and corn syrup.
1 1/2 tablespoons (21 grams) unsalted butter
3 ounces dark chocolate (86 grams), coarsely chopped
3 tablespoons (15 grams) unsweetened natural cocoa powder
1/4 cup (50 grams) granulated sugar
1 1/2 tablespoons light corn syrup blended with 3 tablespoons lukewarm water
2 teaspoons vanilla extract
1/8 teaspoon salt
1 large, cold egg
3/4 cup (90 grams) all-purpose flour -- fluff it up or sift before measuring
2/3 cup (73 grams) powdered sugar
1/3 cup extra dark chocolate chips (or use about 2 ounces chopped chocolate)
1/2 cup toasted and chopped pecans
Preheat oven to 350 degrees. Line an 8x8 baking pan with nonstick foil or line with regular foil and spray with cooking spray.
Melt the butter in a medium size saucepan. Add chocolate to the hot butter and remove from heat. Stir, using residual heat from chocolate, until it is melted and smooth. If the chocolate doesn't melt completely, return it to a very low heat. When melted, stir in the cocoa powder, then stir in the sugar and the corn syrup/water mixture. Add the vanilla, salt, and egg and beat with a spoon just until mixed.
Combine the flour and powdered sugar and stir into the batter. Make sure the batter is cool, then add the chocolate chips and nuts. Pour the batter into the pan and spread evenly.
Bake for 22-24 minutes until a toothpick inserted in the center comes out mostly clean. Let cool completely on a wire rack for at least 2 hours. Remove the brownies from the pan by lifting the foil, then cut into 16 squares.
Measure everything carefully and don't swap out the first 3 ounces of chopped chocolate for chocolate chips. You'll get better results with good chocolate.
Recipe by
Cookie Madness
at https://www.cookiemadness.net/2012/08/brownies/