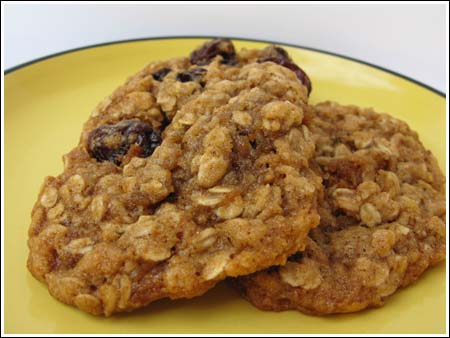 Chewy Vegan Oatmeal Raisin Cookies
Author: Cookie Madness
Prep time: 10 mins
Cook time: 10 mins
Total time: 20 mins
An easy vegan oatmeal cookie recipe. Try is with your favorite vegetable oil or coconut oil.
3/4 cup whole wheat pastry flour (3.25 oz)
1/2 teaspoon baking soda
1/2 scant teaspoon salt
1/2 teaspoon cinnamon
1/2 cup light brown sugar (3 ½ oz)
1/4 cup granulated sugar
2 tablespoons maple syrup
1/4 cup applesauce, drained on a paper towel
1/4 cup vegetable oil
1/2 teaspoon vanilla
1 1/2 cup rolled oats
1/2 cup raisins, plumped and patted dry
Walnuts (optional)
Preheat oven to 350 degrees F. Line two cookie sheets with Silpats.
Mix together the flour, baking soda, salt and cinnamon. Set aside.
Mix both sugars, maple syrup, apple sauce, oil and vanilla together in a medium bowl. Add the flour mixture and stir until blended. Stir in the oats, followed by raisins.
Let sit for 10 minutes.
Drop by rounded teaspoonfuls onto the cookie sheets. Bake for 12-14 minutes. Let cool for about 5-8 minutes on cookie sheets then carefully scoop up onto a wire rack.
Recipe by
Cookie Madness
at https://www.cookiemadness.net/2008/06/10/chewy-vegan-oatmeal-cookies-raisins/