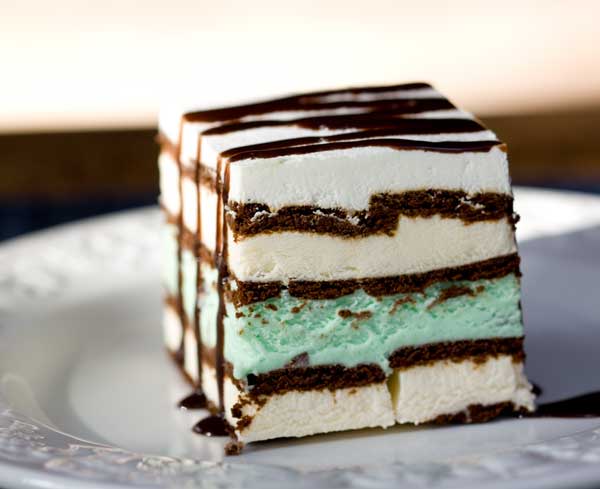 Grasshopper Ice Cream Sandwich Cake
Author: Cookie Madness
Total time: 6 hours 10 mins
An ice cream sandwich cake with a grasshopper pie (mint) flavored topping
12 Ice Cream Sandwiches, use a good brand
4 cups mini marshmallows
1/4 cup granulated sugar
2 tablespoons butter
1/3 cup Crème de Menthe (green type)
1/8 teaspoon vanilla extract
1 1/2 cups whipping cream
2/3 cup Andes Mint Chunks or chopped Andes Mints
Topping 1 cup whipping cream whipped with 2 tablespoons powdered sugar and 1/2 teaspoon vanilla or 2 cups of prepared whipped topping
Garnish: Chocolate Syrup (optional)
Line the inside of an 8 inch square baking dish or pan with plastic wrap or nonstick foil. You could also use a 9 inch pan, but it will require more sandwiches.
Cover bottom of the dish with ice cream sandwiches (4 whole, 2 cut in half) and put in the freezer.
Melt the 2 tablespoons of butter in a large microwave-safe bowl. Add the sugar and marshmallows and heat mixture at 50% power, stirring every 30 seconds until mixture is melted and smooth. Stir in the Crème de Menthe and let the mixture cool to room temperature.
Whip the 1 1/2 cups of cream. Fold the whipped cream into the mint mixture, then fold in the mint chips. Pour over the ice cream sandwiches, then add a second layer (6) of ice cream sandwiches.
Bring plastic wrap up and around the ice cream cake to cover, then freeze for about 6 hours or until firm.
Now it's time to cover the cake with whipped cream. You can whip the 1 cup of cream and flavor it with sugar and vanilla OR for a lighter coating, just use light whipped topping. Cover the frozen cake in whipped cream and return to the freezer, covered loosely this time, until ready to serve. To serve, let sit for about 10 minutes to soften slightly, then cut into squares.
If you don't want to use a microwave, you may melt the marshmallows in the top of a double boiler. This recipe halves well. Just make it in a loaf pan and use half the filling. The 300 minutes refers to the chill time.
Recipe by
Cookie Madness
at https://www.cookiemadness.net/2012/08/grasshopper-ice-cream-sandwich-cake/