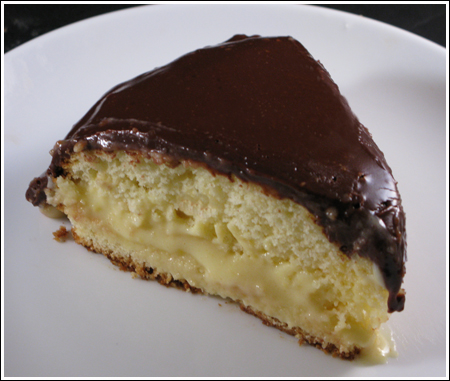 Boston Cream Pie from Joy of Cooking
Author: Cookie Madness
Prep time: 60 mins
Cook time: 30 mins
Total time: 1 hour 30 mins
Custard layered between golden cake topped with chocolate icing.
FOR THE GOLD LAYER CAKE:
2 cups sifted cake flour (measure after sifting)
2 tsp. baking powder
1/4 tsp. salt
1 stick (1/2 cup) unsalted butter, softened
1 cup sugar
3 large egg yolks
1 tsp. vanilla extract
3/4 cup milk
FOR THE CUSTARD CREAM FILLING:
1 1/2 cups milk (whole)
1 vanilla bean
1/2 cup sugar
1/4 cup flour
3 to 4 large egg yolks, beaten (I used 3)
FOR THE CHOCOLATE ICING:
4 oz. semisweet chocolate
1 tbsp. butter
6 tbsp. whipping cream
1 tsp. vanilla extract
1 1/2 cups confectioners' sugar (sifted)
Preheat oven to 375 degrees F. Spray a 9 inch round springform pan with flour-added cooking spray. If you want, you may use two 8 inch pans instead.
Sift flour again with baking powder and salt; set aside. Beat butter and sugar in bowl of electric mixer until light in color, about 2 minutes. Beat in egg yolks and vanilla. Add flour mixture in 3 parts, alternating with milk, beating well after each addition. Pour batter into greased pan or pans.
Bake until wooden pick inserted in center comes out clean, about 30 minutes – will take less time if using 2 pans. Cool in pan(s) on wire rack 10 minute. Remove sides of pan and let cool completely, then carefully remove cake from springform bottom. When cake is cool, split it in half horizontally.
Custard Filling: Heat milk and vanilla bean in medium saucepan over medium heat to just below boiling. Place sugar, flour and egg yolks in top of double boiler over simmering water. Add milk and scrapings from inside of vanilla bean. Cook over medium heat, whisking constantly, until mixture begins to thicken. Remove from heat; stir. Cool mixture completely.
Glaze: Melt chocolate and butter in top of double boiler over simmering water. Stir in cream and vanilla. Add confectioners' sugar; mix until smooth.
TO ASSEMBLE: Place 1 cake layer on serving plate. Spread with thick layer of pastry cream. Top with second cake layer. Frost with icing.
Recipe by
Cookie Madness
at https://www.cookiemadness.net/2008/06/12/boston-cream-pie-joy-of-cooking/