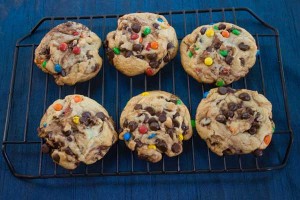 Saucepan Chocolate Chip Cookies
Author: Cookie Madness
Prep time: 10 mins
Cook time: 15 mins
Total time: 25 mins
Large chocolate chip and M&M cookies made in a saucepan. This recipe is adapted from Pam Anderson who calls them One Pot Chocolate Chip Cookies.
8 tablespoons unsalted butter, cut into 4 pieces
1/2 cup firmly packed light brown sugar (100 grams)
1/3 cup granulated sugar (70 grams)
1 1/2 cups all purpose flour (190 grams)
1 teaspoon baking powder
3/8 teaspoon salt
1 large egg
1 teaspoon pure vanilla extract
1 1/2 cups extra dark chocolate chips
1/3 cup mini M&Ms or white chocolate chips
Preheat the oven to 350 degrees F. Line 2 cookie sheets with parchment paper or nonstick foil
Melt the butter in a 3 quart saucepan set over medium heat. Remove from heat and add the brown sugar and granulated sugar; whisk or stir until smooth. Let cool for 5 minutes.
While sugar cools, combine the flour, baking powder, and salt in a medium bowl and stir well.
Once the butter mixture has cooled (it can still be a little warm), add the egg and vanilla and stir until blended. Add the flour mixture and stir blended. Let the dough cool slightly if it is still warm (about 10 more minutes), then stir in the chips and candy.
Using a little less than 1/4 cup measure, drop scoops of dough on a baking sheet (6 to a sheet) spacing at least 3 inches apart.
Bake on center rack for 12 to 15 minute or until edges are lightly browned.
Let cool on the baking sheet for about 10 minutes. Using a spatula, lift the cookies from the sheet onto a rack and let cool completely.
Recipe by
Cookie Madness
at https://www.cookiemadness.net/2012/08/saucepan-chocolate-chip-mm-cookies/