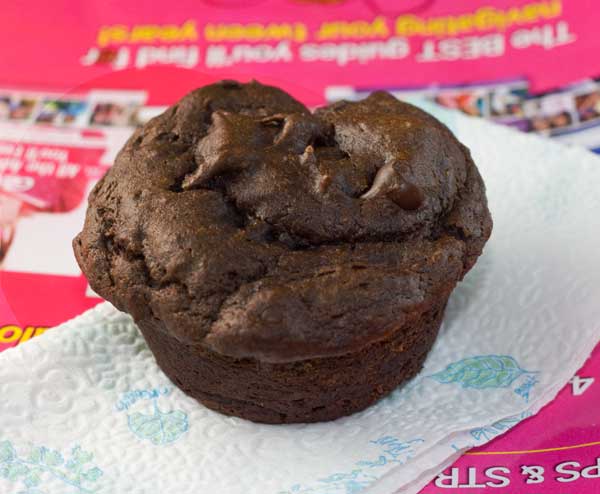 Wildtree Chocolate Avocado Muffins (Vegan)
Author: Cookie Madness
Chocolate muffins perfect for breakfast or dessert
1 1/2 cups (6.8 ounces) all-purpose flour
3/4 cup unsweetened natural cocoa powder
1 teaspoon baking powder
3/4 teaspoon baking soda
3/4 teaspoon salt
1 large avocado
1 cup pure maple syrup
3/4 cup plain soy milk or almond milk
1/3 cup Wildtree Natural Grapeseed Oil or your favorite oil
2 teaspoon vanilla extract
1 cup dark chocolate chips, vegan approved if making vegan
Preheat oven to 350ºF. Line a 12 cup muffin tin with paper muffin cups or just grease and dust with cocoa.
In a large mixing bowl bowl, stir together flour, cocoa powder, baking powder, baking soda, and salt.
Puree avocado in food processor until smooth. Add maple syrup, milk, oil and vanilla, and process until creamy. Stir the avocado mixture into the flour mixture. Stir in the chocolate chips.
Divide batter evenly between the muffin cups and bake on center rack for 25 minutes.
I used Guittard extra dark chocolate chips. Not sure if those are really vegan, but I wasn't too worried about it in this case. For the maple syrup, I used a really mild tasting brand (Maple Grove) and for the milk, I used almond. These were very easy to throw together, but a food processor or blender is necessary.
Recipe by
Cookie Madness
at https://www.cookiemadness.net/2012/08/wildtree-chocolate-avocado-muffins-vegan/