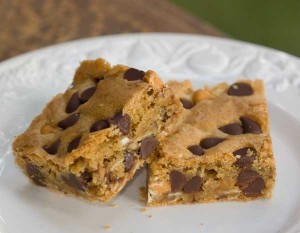 Triple Chip Toasted Pecan Bars
Author: Cookie Madness
Prep time: 30 mins
Cook time: 28 mins
Total time: 58 mins
A saucepan blondie made with 3 types of chips and toasted pecans
2/3 cup pecan halves
1 stick (4 ounces) unsalted butter
1 cup light brown sugar, packed
1 teaspoon vanilla extract
1 large egg, cold
3/4 teaspoon baking powder
1/4 teaspoon salt plus a pinch
1 cup all-purpose flour
1/4 cup old fashioned oats
3/4 cup semisweet or dark chocolate chips
1/4 cup butterscotch morsels
1/4 cup white chips
Preheat oven to 350 degrees F. Line an 8 inch square metal pan with nonstick foil.
Put the pecan halves on a baking sheet and bake for 7 minutes or until toasty and aromatic. Let cool completely and chop.
Meanwhile, in a large (3 quart) saucepan, melt the butter over medium heat. Add the brown sugar and stir well, then remove from heat and let mixture cool for 10 to 15 minutes. Stir in the vanilla and the cold egg. When egg is mixed in, stir in the baking powder and salt, followed by the flour and oats. If the batter is still warm, let it cool down a bit more before adding the chips and toasted pecans all at once.
Spread the batter in the pan and bake one center rack for 28 minutes or until bars appear brown and shiny. Let cool completely. Lift from pan and slice into bars.
Prep time includes some "waiting around" time. The mixture needs to cool before the egg is added, and again before the chips are added. If you add the chips to hot batter, they'll start to melt before you put the bars in the oven.
Recipe by
Cookie Madness
at https://www.cookiemadness.net/2012/09/triple-chip-toasted-pecan-bars/