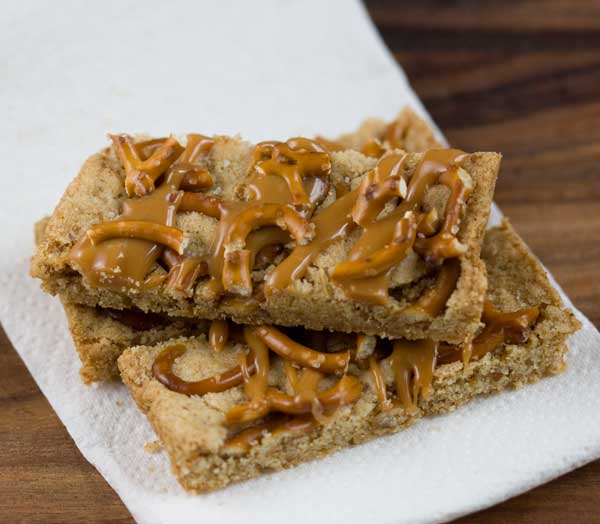 Pretzel Caramel Shortbread Bars
Author: Cookie Madness
Shortbread topped with pretzels and caramel.
3 1/4 cups salted miniature twist pretzels, plus a few more for garnish
1/2 cup all-purpose flour
1/2 teaspoon baking powder
1 stick (4 ounces) unsalted butter, softened
1/2 cup granulated sugar
1/2 teaspoon vanilla extract
1 large egg yolk
1/3 cup caramel bits (or 3 ounces of unwrapped caramel)
1/2 tablespoon milk
Preheat oven to 325 degrees. Line an 8 inch square metal pan with nonstick foil or line with regular foil and spray with cooking spray.
Pulse 1 3/4 cups pretzels in a food processor until powdery. Measure out 1/2 cup and put in a small bowl. Stir in the flour and baking powder.
Transfer remaining 1 1/2 cups pretzels to food processor, and pulse a few times until coarsely chopped.
In a mixing bowl using an electric mixer, beat butter and sugar until pale and fluffy. Reduce speed to low, and beat in vanilla and egg yolk. Add the pretzel-flour mixture and stir until combined. Mix in about 1/2 cup chopped pretzels.
Press dough evenly into pan and press about 1/2 cup of the broken pretzels on top.
Bake shortbread on center rack for 25 to 30 minutes or until browned around edges and set in center. Transfer pan to a wire rack, and let shortbread cool for about an hour.
Meanwhile, microwave the caramel bits with the milk on high for about 25 seconds. Stir well and quickly drizzle melted caramels over bars (it's okay if they are still warm at this point). Break up a few more pretzels and press pretzel pieces over caramel drizzle. Let the bars continue to sit until bars are completely cool and caramel has set.
Grasp foil and lift bars from pan. Set on a cutting board, and with a chef's knife, cut into 8 bars.
Recipe by
Cookie Madness
at https://www.cookiemadness.net/2012/09/pretzel-caramel-shortbread-bars/