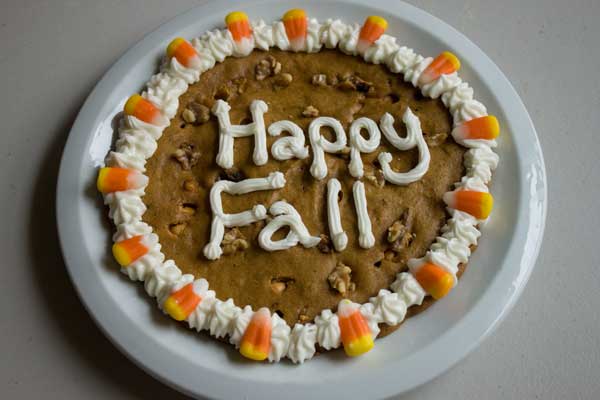 Author: Cookie Madness
Large cookie cake with a pumpkin cookie base.
1 stick (4 ounces) unsalted butter or margarine*
3/4 cup lightly packed dark brown sugar
1/2 scant cup canned pumpkin puree
1 large egg
1 teaspoon vanilla
1/2 teaspoon pumpkin pie spice
1/4 tsp baking soda
3/8 tsp salt or 1/4 tsp if using salted butter or margarine*
1cup plus 3 tablespoon all-purpose flour
1/2 cup toasted and chopped pecans or walnuts
1 cup white chips or butterscotch chips
Frosting:
1/2 cup unsalted butter, softened
3 3/4 cup confectioners' sugar
2 teaspoons vanilla
2-4 tablespoons whole milk or more as needed
Pinch of salt (or as needed)
Preheat oven to 300° F. Line 2 9 inch round metal cake pans with nonstick foil.
In the bowl of a stand mixer fitted with a paddle, beat the butter and brown sugar until creamy. Beat in the pumpkin, egg and vanilla, beating only until mixed.
Scrape sides of bowl and beat in the pumpkin pie spice, salt and baking soda, scraping sides of bowl as needed.
By hand or with lowest speed of mixer, gradually stir in the flour.
Stir in white chips and nuts.
Divide the sticky dough in half and put half in the center of each pan. Using a rubber scraper, pat it into an 8 or 8 1/2 inch circle so that you have about 1/2 inch of space between the dough and the edge of the pan -- it should spread.
Bake on center rack for 35 to 40 minutes or until cookies appear set.
Set on a cooling rack and let cool completely before frosting. When ready to frost, lift from pan by grasping foil.
To make the frosting, beat the butter in a large mixing bowl until creamy. Gradually add the confectioners' sugar, then beat in the vanilla. Add milk 1 tablespoon at a time, beating until frosting is creamy and smooth. Add salt. Put it in a decorator's bag fitted with the tip of your choice and pipe around the edges.
**If using margarine or regular salted butter, decrease salt to 1/4 teaspoon Also, I didn't test these with shortening, but I have a feeling that 1/2 cup (3.4 ounce weight) would result in an even better textured cookie cake.
Recipe by
Cookie Madness
at https://www.cookiemadness.net/2012/09/pumpkin-cookie-cake-or-cookie-pizza/