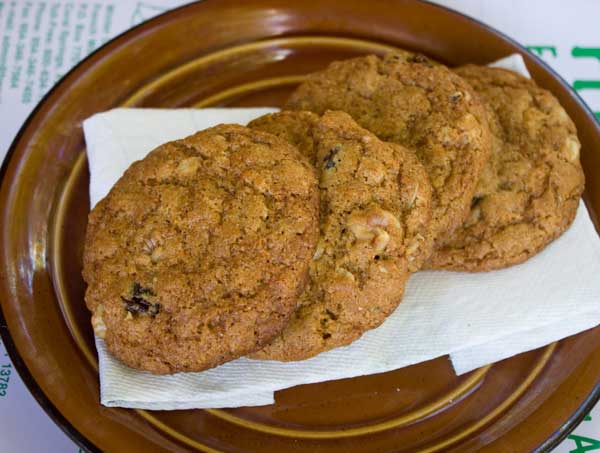 One Bowl Oatmeal Raisin Cookies
Author: Cookie Madness
Prep time: 10 mins
Cook time: 10 mins
Total time: 20 mins
An easy oatmeal raisin cookie you can make in one bowl. No mixer required!
2 cups all-purpose or Ultragrain flour (9 ounces)
1 teaspoon baking soda
1 teaspoon baking powder
1/4 teaspoon plus an extra pinch of salt
1 cup granulated or "natural" granulated sugar (evaporated cane juice)
1/2 teaspoon cinnamon, more if you really love cinnamon
1/4 teaspoon freshly ground nutmeg
2/3 cup old fashioned oats
1/2 cup grapeseed oil
2 1/2 tablespoons mild molasses
1 large egg
1/3 cup Greek yogurt
1 teaspoon vanilla extract
1/2 cup toasted and chopped walnuts
1/2 cup raisins
Preheat the oven to 375 degrees F. Line a couple of baking sheets with nonstick foil.
In a large mixing bowl, thoroughly stir together all dry ingredients (flour through oats).
Make a well in the center and add your oil, molasses, egg, yogurt and vanilla.
With a mixing spoon, stir the liquid ingredients together in the center of the bowl. Add the walnuts and raisins, then stir everything (liquid and dry) all together. You should have a thick, smooth, dough.
Using a generously rounded tablespoons (equal to 2 level tablespoons), scoop up dough and shape into balls. Arrange about 10 to 13 balls 2 1/2 inches apart on each baking sheet. Press the balls down slightly to make 3/4 inch rounds.
Bake one sheet at a time on center rack for about 10 minutes or until the cookies are set. Let cool on baking sheet for about 3 minutes, then carefully transfer to a wire rack to finish cooling.
Recipe by
Cookie Madness
at https://www.cookiemadness.net/2012/09/26/one-bowl-oatmeal-raisin-cookies/