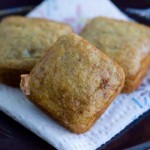 Low Fat Banana Bread Squares
Author: Cookie Madness
Prep time: 10 mins
Cook time: 25 mins
Total time: 35 mins
Squares of reduced fat banana bread made in a mini bar cookie pan
1 1/2 large bananas, whole (very ripe)
1/3 cup granulated sugar or sweetener equivalent
1 large egg
1 1/2 teaspoons vanilla
2 teaspoons grapeseed oil or canola oil
1 teaspoon baking powder
1/4 teaspoon baking soda
1/4 teaspoon salt
7/8 cup (4 ounces) all-purpose, Ultragrain or white whole wheat flour
3 tablespoons buttermilk or milk mixed with 1/2 tsp. lemon juice
Preheat the oven to 325 degrees F. Spray a 12 indentation mini bar pan with flour-added baking spray.
In a large mixing bowl, mash the banana with a hand-held electric mixer or a spoon (depending on ripe it is). Beat in the sugar and the egg and continue beating until smooth.
Beat in the vanilla and oil, then beat in the baking powder, baking soda and salt.
By hand, stir in the flour, then stir in the milk.
Divide the batter equally among all 12 indentations and bake on center rack for about 25 minutes or until golden.
Let cool for 10 minutes, then carefully remove from the pan.
Calories: 81
Fat: 1g
Fiber: 1g
Protein: 2g
Cholesterol: 18mg
Recipe by
Cookie Madness
at https://www.cookiemadness.net/2013/01/07/low-fat-mini-banana-bread-squares/