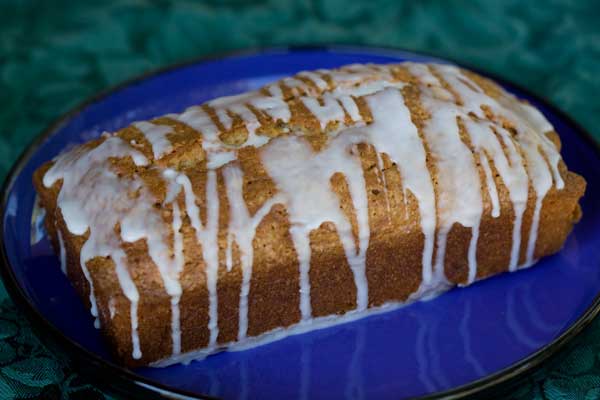 Author: Cookie Madness
Prep time: 10 mins
Cook time: 76 mins
Total time: 1 hour 26 mins
A simple lemon pound cake made with Greek yogurt
1 1/2 cups (6.8 ounces) all-purpose flour
1 cup granulated sugar
1/2 cup lightly packed brown sugar
1/2 teaspoon salt
1/8 teaspoon baking soda
1/4 teaspoon ground ginger
1/8 teaspoon freshly grated nutmeg (optional)
1/2 cup Voskos Greek Yogurt (original), room temperature
1/2 cup vegetable oil
2 packed teaspoons lemon zest
1 tablespoons fresh lemon juice
3/4 teaspoons vanilla extract
2 large eggs
Icing
2 teaspoons melted butter
1/2 cup confectioners' sugar
1/2 tablespoon fresh lemon juice
1 tablespoon milk
Preheat oven to 350 degrees F. Grease and flour an 8 1/2 by 4 1/2 inch metal loaf pan or line inside with nonstick foil.
In a large mixing bowl, combine flour, both sugars, salt, baking soda, ginger and nutmeg. Stir thoroughly.
Make a deep well in the center of the flour mixture and add the yogurt, oil, lemon zest, lemon juice, vanilla and eggs.
With a large mixing spoon (I like using a heavy duty silicone scraper), mix the liquid ingredients together in the well, then mix the dry ingredients into the liquid and continue stirring until blended. Do not over-beat.
Transfer the batter to the pan and bake on center rack for about 1 hour and 10 minutes. Let cool completely in the pan.
When cool, prepare icing by mixing all icing ingredients together until smooth. Drizzle over cake and let set.
For the oil, I used canola.
Recipe by
Cookie Madness
at https://www.cookiemadness.net/2012/10/03/voskos-greek-yogurt-pound-cake/