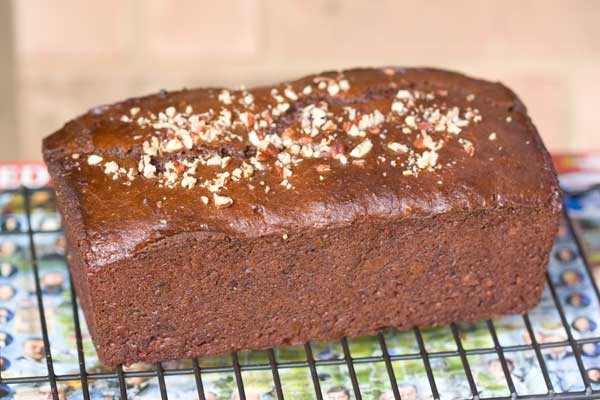 Double Chocolate Apple Butter Bread
Author: Cookie Madness
Prep time: 15 mins
Cook time: 60 mins
Total time: 1 hour 15 mins
A rich double chocolate bread made with Greek yogurt, chocolate chips and nuts
1 3/4 cup (7.9 ounces) all-purpose flour
1/2 cup unsweetened natural cocoa powder
1/2 teaspoon baking powder
1/2 teaspoon baking soda
3/4 teaspoon salt
1/3 cup apple butter, I used Smucker's
1/4 cup vegetable oil
1 cup granulated sugar
2 large eggs
1 1/2 teaspoon vanilla extract
1 cup plain yogurt, vanilla would probably be okay, I used Voskos nonfat
3/4 cup dark chocolate chips
1/4 cup chopped pecans
Preheat oven to 350 degrees F. Spray a 9x5 inch or 8 ½ x 4 ½ inch metal loaf pan with flour-added baking spray.
Mix the flour, cocoa powder, baking powder, baking soda, salt and salt together in a bowl and set aside.
In a large mixing bowl, whisk the apple butter, oil and sugar together until smooth. Add the eggs one by one, then whisk in the vanilla and the yogurt until smooth.
Whisk in the flour, then stir in the chocolate chips.
Scrape batter into the loaf pan and sprinkle nuts across the top.
Bake on center rack for 50 to 60 minutes or until a pick inserted in the center comes out clean.
Let cool in the pan for about an hour, then remove from pan and let cool completely before serving.
My favorite loaf pan is an 8 1/2 x 4 1/2 loaf pan, and it's what I used for this bread. It worked well, but I think next time I'd do it in a 9x5 inch loaf pan. If you use a 9x5 inch loaf pan, the bread will probably be done in 45 or 50 minutes. If you put all the batter in the smaller sized loaf pan (like I did), it will probably take an hour. If your oven runs hot and you know it, you might want to bake this at 325 until done.
Recipe by
Cookie Madness
at https://www.cookiemadness.net/2012/10/double-chocolate-apple-butter-bread/