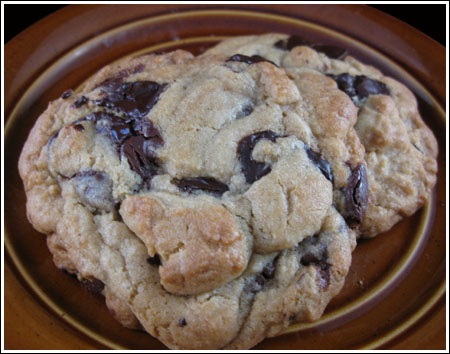 (The Latest) New York Times Chocolate Chip Cookies
Author: Cookie Madness
Prep time: 20 mins
Cook time: 20 mins
Total time: 40 mins
Giant chocolate chip or chocolate chunk cookies. These are perfect for wrapping individually and giving as gifts.
2 cups minus 2 tablespoons (8 1/2 oz weight) cake flour
1 2/3 cups (8 1/2 oz weigh) bread flour
1 1/4 teaspoons baking soda
1 1/2 teaspoons baking powder
1 1/2 teaspoons coarse salt
2 1/2 sticks (10 oz) unsalted butter
1 1/4 cups (10 oz) light brown sugar
1 cup plus 2 tablespoons (8 ounces) granulated sugar
2 large eggs
2 teaspoons natural vanilla extract
3 cups of the best chocolate chips you can find
Sea salt -- good, but I omit it half the time and the cookie are still great.
Thoroughly mix the flours, baking soda, baking powder and salt into a bowl. Set aside.
Using a mixer fitted with paddle attachment (a handheld mixer is fine), cream butter and sugars together until very light, about 5 minutes. Add eggs, one at a time, mixing well after each addition. Stir in the vanilla. By hand, stir in the flour mixture. When flour is incorporated, stir in the chocolate. At this point, I like to shape the cookies and chill the shaped balls.
Line a baking sheet with parchment paper and scoop out about 18 equal size balls. Chill until the dough is firm and the balls don't stick together, then put in a bag and chill overnight.
When ready to bake, preheat oven to 350 degrees and bring dough to room temperature.
Line a baking sheet with parchment paper or a nonstick baking mat and arrange about 6 dough balls per sheet. Press the tops down slightly and sprinkle tops with sea salt if desired.
Bake for 18 to 20 minutes. Let cool on the baking sheet for 5 to 10 minutes and then transfer to a cooling rack to finish cooling.
I like to transfer them to the refrigerator to quick cool and prefer the chocolate set rather than warm and melty.
Jacques Torres makes these with Valrhona fèves, oval-shaped chocolate pieces. You can sometimes find them at Whole Foods. I make them with whatever good chocolate I can get my hands on. If I'm using chips, I like to use the Ghirardelli 60% bittersweet chips.
Recipe by
Cookie Madness
at https://www.cookiemadness.net/2008/07/the-latest-new-york-times-chocolate-chip-cookies/