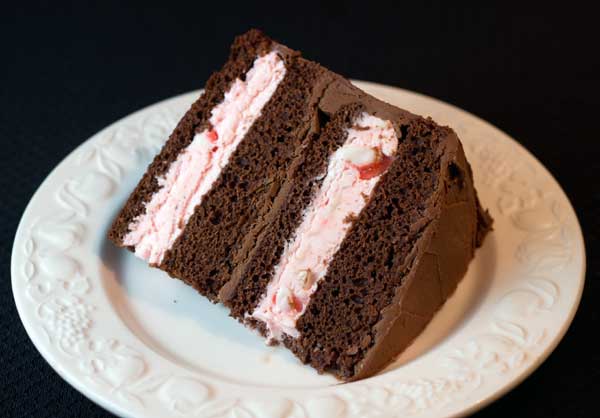 No Ice Cream Maker Peppermint Ice Cream
Author: Cookie Madness
Prep time: 12 hours
Cook time: 45 mins
Total time: 12 hours 45 mins
Peppermint ice cream made without an ice cream maker
1 can (14 ounces) Eagle Brand condensed milk
1 teaspoon of vanilla extract
2/3 cup chopped peppermint candies
2 cups of heavy cream
Line inside of a 9x5 inch loaf pan with plastic wrap. If using the ice cream between cake layers, line two round 8 or 9 inch cake pans with plastic wrap.
Pour condensed milk and flavorings (vanilla and peppermint) in a large mixing bowl.
In a second bowl, whip the cream until thick. Fold the whipped cream into the condensed milk mixture, then pour into the loaf pan OR divide evenly between the cake pans. Cover with plastic wrap and chill for a few hours or until very firm.
If making cake layers, lift the two firm ice cream rounds from their pans and use between layers of a three layer cake. If making a two layer cake, split the layers, and fill with the two ice cream slabs and one layer of frosting (as shown in photo).
Recipe by
Cookie Madness
at https://www.cookiemadness.net/2012/10/ice-cream-cake/