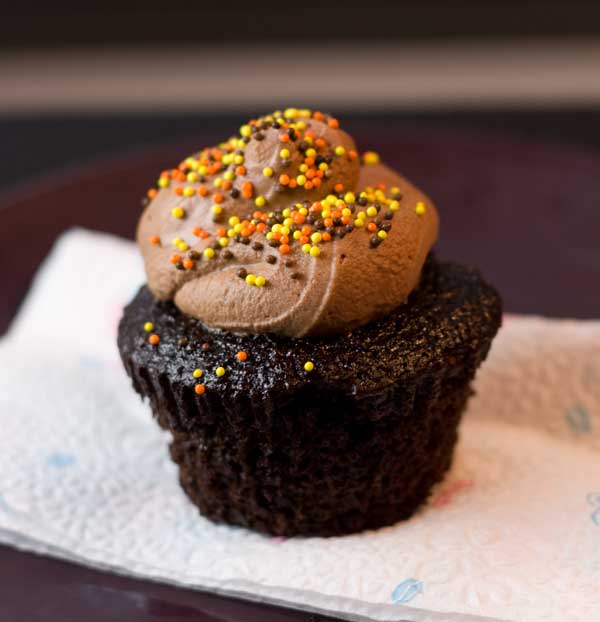 Black Magic Mousse Topped Cupcakes
Author: Cookie Madness
Prep time: 10 mins
Cook time: 25 mins
Total time: 35 mins
Chocolate Cupcakes with Chocolate Mousse
1 3/4 cups flour, stir very well before measuring (7.9 ounces)
3/4 cup extra dark unsweetened baking cocoa or Dutch processed
2 teaspoons baking soda
1 teaspoon baking powder
1 teaspoon salt
2 cups granulated sugar
2 large eggs
1 cup buttermilk
1/2 cup vegetable oil
2 teaspoons vanilla extract
1 cup hot brewed coffee
Chocolate Mousse Frosting (make twice)
5 ounces milk chocolate
3 ounces dark chocolate chips
1 tablespoon Hungry Jack pancake syrup (or whatever syrup)
2 cups heavy whipping cream
1/2 teaspoon vanilla
Preheat oven to 350°F. Line 32 cupcake cups with paper liners.
In a large bowl, stir together flour, cocoa, baking powder, baking soda, salt and sugar. Make a well in the center and add eggs, milk, oil, vanilla and coffee, then stir until mixed. With an electric mixer, beat on medium until smooth.
Bake cupcakes for about 25 to 28 minutes or until set.
In a microwave-safe bowl, melt the two chocolates together using 50% power and stirring every 30 seconds. Add the room temperature pancake syrup and ½ cup of the cream and transfer to a mixing bowl. Let cool to room temperature (about 5 minutes), then gradually add remaining 1 ½ cups of cream and beat with an electric mixer until thick. Beat in vanilla.
Transfer the mousse into a large, heavy duty freezer bag and chill for 10 minutes.
Snip the bottom corner of the bag about ½ inch from the point and squeeze the mousse out onto the top of each cupcake. Keep cupcakes chilled until serving time.
I usually halve the cupcake recipe, so this mousse recipe makes enough to cover about 16 cupcakes. If you are making the full cupcake recipe and want all the cupcakes topped with mousse, you'll need to make the mousse recipe twice. Also, rather than doubling the mousse recipe and making it all at once, I recommend making it from start to finish as written, then repeating with a second round of ingredients.
Recipe by
Cookie Madness
at https://www.cookiemadness.net/2012/10/black-magic-mousse-topped-cupcakes/