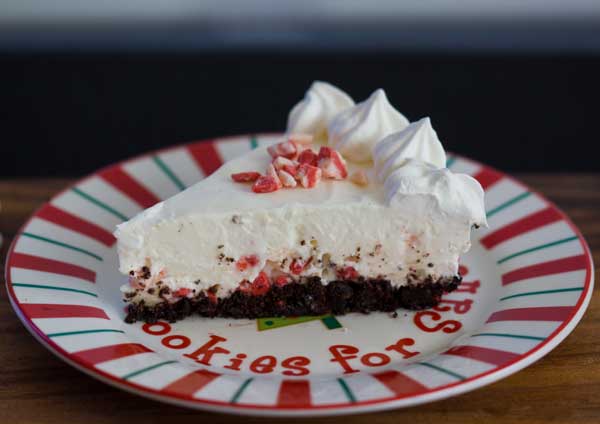 Author: Cookie Madness
Prep time: 10 mins
Cook time: 240 mins
Total time: 4 hours 10 mins
Peppermint cheesecake made with Candy Cane Oreos and Andes Mint Chips
Crust
15 Candy Cane Oreos
2 tablespoons melted butter
Filling
1 cup heavy cream
1 envelope unflavored gelatin
1/4 cup water, cold
16 ounces (2 packs) cream cheese, softened
1/2 cup granulated sugar
1/2 cup milk
1 teaspoon vanilla extract
1 cup Andes Peppermint Chips
In a food processor in a zipper bag with a rolling pin, crush the cookies. Combine the cookie crumbs and butter and press into the bottom of a 9 inch round springform pan. Chill until ready to use.
In a metal bowl, whip the cream and set aside.
In a saucepan, combine the cold water and gelatin. Turn heat to medium and stir until gelatin dissolves. Remove from heat.
In a mixing bowl, beat the cream cheese and sugar until smooth and creamy. Beat in the gelatin mixture, milk and vanilla. Stir in the peppermint chips. Fold in the whipped cream.
Pour cheese mixture over the crust and chill for a few hours or until firm.
The crust was pretty thin, but I only had 15 Oreos to work with. Next time I might use 22 and increase the butter to 3 Tablespoons. Adding pink would be a nice touch, or you could use green Andes bits and dye the cake green.
Recipe by
Cookie Madness
at https://www.cookiemadness.net/2012/11/peppermint-cheesecake-with-candy-cane-oreo-crust/