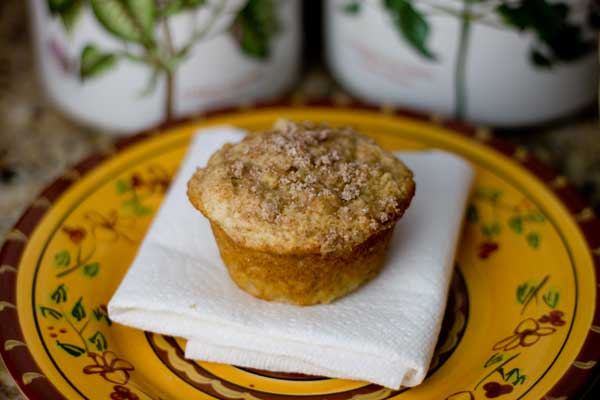 Author: Cookie Madness
Prep time: 10 mins
Cook time: 25 mins
Total time: 35 mins
Muffins made with Granny Smith apples and lots of cinnamon
2 very large or 3 medium Granny Smith apples
2 cups (9 ounces) all-purpose flour
1/2 teaspoon salt
4 teaspoons baking powder
3/4 teaspoon cinnamon, plus ½ teaspoon for topping
1/4 teaspoon freshly grated nutmeg
1 large egg
1/2 cup granulated sugar, plus 1 tablespoon for topping
1/4 cup plus 2 teaspoons vegetable oil
1/2 teaspoon vanilla extract
1 cup milk, low fat is fine
Preheat the oven to 375 degrees F. Spray 14 muffin cups with flour-added baking spray or line with paper liners.
Peel the apple, remove the core and chop into very fine bits. I recommend using a mini food processor. You should end up with about 2 1/3 cups.
In a small bowl, thoroughly mix together the flour, salt, baking powder, ¾ teaspoon of cinnamon and nutmeg.
In a mixing bowl, lightly beat the egg with a fork, then stir in ½ cup of sugar, oil and vanilla. Add the chopped apple and stir well. Add the flour mixture and milk alternately, stirring just until blended.
Divide the batter among the 14 muffin cups – it should come almost to the top. Mix together the reserved 1 tablespoon of sugar and ½ teaspoon of cinnamon. Sprinkle over the top.
Bake the muffins on the center rack for about 25 minutes. Let cool in the muffin pan. As the cool, loosen gently with edge of a knife, but do not remove. When the muffins are cool, remove from cups.
I tried adding walnuts to a few, but didn't like the texture of the heavy walnuts with the light cake. If you want to incorporate nuts, they'd probably work better on the top.
Recipe by
Cookie Madness
at https://www.cookiemadness.net/2012/11/apple-pie-muffins/