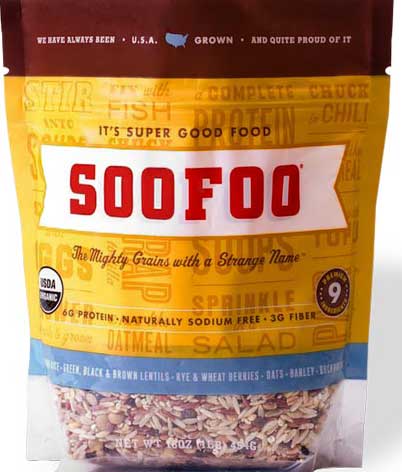 Author: Cookie Madness
Prep time: 10 mins
Cook time: 100 mins
Total time: 1 hour 50 mins
Vegetarian chili made with SooFoo
SooFoo Prep
1 cup SooFoo
2 cups water
1/2 teaspoon salt
1 tablespoon olive oil
Chili
1 1/2 tablespoons olive oil
1 2/3 cups chopped onion
1 1/2 cups finely chopped red & green peppers
2 tablespoons minced garlic
2 teaspoons ground cumin
1 tablespoon of chili powder (such as Gebhardt)
1/2 cup chopped carrots
1 can (15 ounces) tomato sauce
3/4 cup vegetable broth
1 1/2 teaspoons honey (optional)
1/4 teaspoon black pepper or to taste
Prepare the SooFoo as directed on the back of package using 1 cup SooFoo, 2 cups water, 1/2 teaspoon salt and 1 tablespoon of oil. This should take about an hour in a rice cooker.
In a Dutch oven or large pot, heat the oil to medium. Add onions and peppers and saute for about 5 minutes. Add the garlic and cumin and saute for another 3 minutes, then stir in the chili powder, carrots, tomato sauce, broth and honey. Cover and let simmer for about 15 minutes.
Add the cooked SooFoo and stir well. Add pepper to taste. Cover and simmer for another 10 minutes or until ready to eat.
I like adding a little honey to bring out the natural sweetness of the tomato sauce, but feel free to leave it out.
Recipe by
Cookie Madness
at https://www.cookiemadness.net/2012/11/24/vegetarian-chili-with-soofoo/