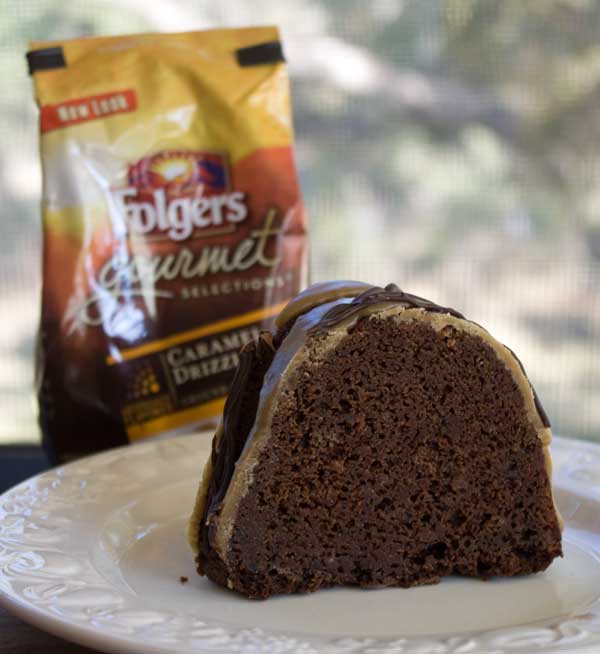 Caramel Drizzle Chocolate Bundt Cake
Author: Cookie Madness
Prep time: 20 mins
Cook time: 45 mins
Total time: 1 hour 5 mins
Chocolate Bundt cake made with caramel flavored coffee and topped with caramel icing and melted chocolate.
Cake
1 3/4 cups (7.9 ounces) all-purpose flour
1 1/2 cup granulated sugar
1/2 cup brown sugar
3/4 cup unsweetened cocoa powder, I used Hershey's Dark
1 teaspoon salt
2 teaspoons baking soda
1 teaspoon baking powder
2 large eggs
1 cup buttermilk or plain yogurt
1/2 cup vegetable oil
1 teaspoon vanilla extract
1 cup Folgers Gourmet Selections Caramel Drizzle coffee
Caramel Drizzle and Garnish
3 tablespoons butter
1/3 cup dark brown sugar
2 tablespoons heavy cream
2/3 cup sifted confectioners sugar, plus a little extra if needed
1/2 teaspoon vanilla extract
Pinch of salt
1/3 cup dark chocolate chips
Preheat oven to 350 degrees F. Spray a 12 cup Bundt pan with flour-added cooking spray.
In a mixing bowl, combine the flour, sugar, brown sugar, cocoa powder, salt, baking soda and baking powder and stir well with a spoon, mashing up any lumps of brown sugar.
Make a well in the center and add the eggs, buttermilk, oil and vanilla. Stir well, then stir everything together with a spoon or silicone scraper.
Pour the hot coffee in and stir until mixed, then with a handheld mixer set on medium speed for about 1 1/2 minutes or until well blended.
Pour into pan and bake for 35 to 40 minutes.
Let cool in the pan for about 15 minutes, then carefully turn onto a wire rack set over paper towels.
Prepare Caramel Drizzle. In a small nonstick saucepan, heat butter over medium until slightly melted. Stir in brown sugar and bring mixture to a boil, stirring constantly. Boil, stirring once or twice, for 30 seconds. Turn off heat. Stir in cream, confectioners' sugar, vanilla and salt and stir until smooth. Drizzle a little over the cake. If it sinks in or seems to thin, add another tablespoon of confectioners sugar and stir a little more. Quickly drizzle over the cake while the icing is still soft -- you have to work quickly or it will start to set in the pan.
Put the chocolate chips in a large heavy duty freezer bag (must be freezer -- not regular type) and microwave bag of chips for 30 seconds. Massage the bag a little and push partially melted chips down toward the bottom corner. Microwave for another 10 seconds and repeat until chips are fully melted. Snip a tiny corner off the bottom of the bag and pipe melted chocolate decoratively over caramel-drizzled cake.
This recipe is adapted from the old Hershey's "Black Magic" cake. Normally I use their dark (Dutch processed) cocoa, but I only had about half a cup left so I used a mixture of Hershey's Extra Dark and Hershey's Natural.
Recipe by
Cookie Madness
at https://www.cookiemadness.net/2012/11/18/caramel-drizzle-chocolate-bundt-cake/