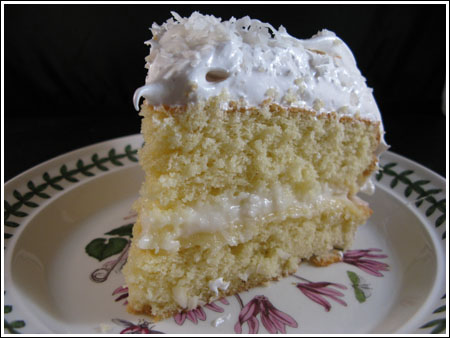 Author: Cookie Madness
Prep time: 30 mins
Cook time: 25 mins
Total time: 55 mins
An 8 inch coconut layer cake
1 1/2 cups all purpose flour (6.8 oz)** -- spoon and sweep
2 1/4 teaspoons baking powder
3/4 teaspoon salt
8 tablespoons unsalted butter, room temp
1 cup granulated sugar
2 large eggs
1 teaspoon vanilla extract
1/2 cup coconut milk (not lite) (Taste of Thai or Thai Kitchen)
Filling:
1/3 cup granulated sugar
1/2 cup sour cream
1/3 cup flaked coconut
1-2 tablespoons milk or cream
7 Minute Icing:
1 1/2 cups granulated sugar
2 large egg whites
1/3 teaspoon cream of tartar or 1 tablespoon corn syrup
1/8 teaspoon salt
1 ½ teaspoons vanilla
Sweetened coconut flakes (1 cup) -- optional
Preheat oven to 350 degrees F. Grease and flour two 8 inch round metal cake pans.
Sift flour, baking powder and salt together 2 or 3 times. Set aside.
Beat butter and sugar together in a mixing bowl. When light and fluffy, beat in eggs, one at a time, beating 30 seconds after each egg. Beat in vanilla.
Stir the flour mixture and coconut milk into the batter in three parts, alternating between flour and coconut milk. Do this with lowest speed of mixer or preferably, a mixing spoon.
Divide the batter evenly between the two cake pans and bake for 22-24 minutes or until toothpick inserted comes out clean. Cool in pan for 10 minutes, then flip onto a rack and cool completely.
While cakes cook and cool, prepare filling. Mix together sugar, sour cream, coconut and milk. Keep chilled until ready to use.
Make the 7-Minute Icing.
Combine sugar, cream of tartar or corn syrup, salt, water, and egg whites in the top of a double boiler. Beat with a hand-held electric mixer for 1 minute. Place pan over boiling water, being sure that boiling water does not touch the bottom of the top pan. Beat constantly on high speed with electric mixer for 7 minutes. Beat in vanilla. Stir in the coconut if using.
If you have self-rising flour, omit the baking powder and salt and use self-rising
Recipe by
Cookie Madness
at https://www.cookiemadness.net/2008/07/small-coconut-layer-cake/