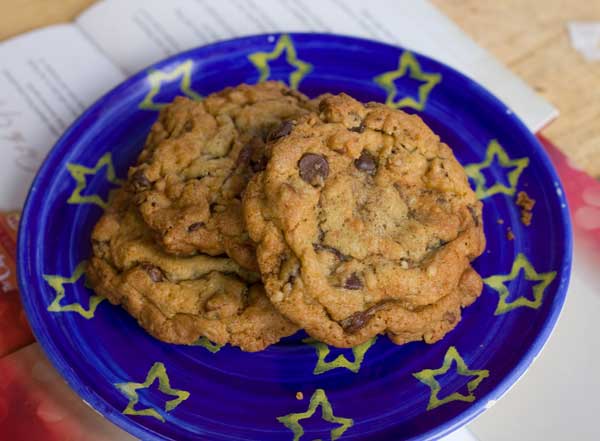 Toasted Pecan Coconut Chocolate Chip Cookies
Author: Cookie Madness
Prep time: 20 mins
Cook time: 35 mins
Total time: 55 mins
The texture of these cookies makes them special. They're chewy, sweet, and loaded with nuts, chocolate and coconut.
Toasted Pecan/Coconut Mixture
1/2 cup whole pecans, use a little more if you like
1 teaspoon unsalted butter
Pinch of salt
1/2 cup flaked coconut
Cookie Dough
1 stick (4 ounces) unsalted butter, cool room temperature, cut into chunks
3/4 cup plus 2 tablespoons light brown sugar
1/4 cup granulated sugar
1 large cold egg
1 teaspoon vanilla extract
1 1/2 cups (6.8 ounces) unbleached all-purpose flour
1 teaspoon baking powder
3/4 teaspoon baking soda
1/2 teaspoon salt
11/4 cup extra dark or dark chocolate chips
Preheat oven to 350 degrees F. Line a rimmed baking sheet with foil.
Place pecans on the baking sheet and bake for 6 to 8 minutes or until they start to release their oil (become shiny). Remove from the oven and toss with the teaspoon of butter. Sprinkle with salt and let cool. Chop.
Wipe the rimmed baking sheet clean and lay the coconut on it. Toast for about 6 minutes or until it is golden around the edges. Let cool.
In large bowl, using an electric mixer, beat the cool butter, brown sugar and granulated sugar until creamy. Beat in the egg and vanilla until they are combined.
In a separate bowl, mix together the flour, baking powder, baking soda and salt.
By hand or using lowest speed of the mixer, stir in the flour mixture.
Add chocolate chips, toasted pecans and coconut to the dough and stir well.
Using a (generously!) heaping tablespoon, scoop up 15 mounds of dough. You can bake them immediately, or scoop them onto a foil lined tray, chill, and bake as needed.
Arrange about 3 inches apart on foil-lined baking sheets. Bake one sheet at time for 12-14 minutes or until cookies are golden brown.
Let cool on baking sheets for about 5 minutes, then transfer to a wire rack to cool completely.
-- Walnuts or pecans may be used
-- Chilling the dough will give you a fatter cookie
-- Using chunks of chocolate rather than chips will cause the cookies to spread a bit more
-- For the chocolate chips, I used what I had on hand which was a mixture of Guittard extra dark and Hershey's Dark.
Recipe by
Cookie Madness
at https://www.cookiemadness.net/2012/11/27/toasted-pecan-coconut-chocolate-chip-cookies/