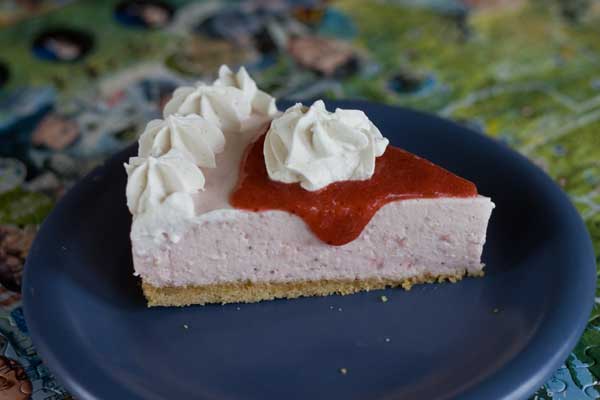 Smooth Strawberry Cheesecake
Author: Cookie Madness
Prep time: 20 mins
Cook time: 250 mins
Total time: 4 hours 30 mins
Smooth Strawberry Cheesecake
Crust
1 1/4 cups graham cracker crumbs
4 tablespoons granulated sugar
4 tablespoons butter, if using unsalted then add a pinch of salt
Filling
1 cup whipping cream
1 8 ounce package softened cream cheese
1/2 cup granulated sugar
1 teaspoon of vanilla
1 (16 ounce) package of frozen strawberries, thawed
About 2/3 cup milk -- amount will vary
1 envelope of unflavored gelatin
1/4 cup cold water
Extra sugar if making the puree
Sweetened whipped cream (garnish)
Preheat the oven to 325 degrees F. Combine the crumbs, sugar and butter and press into bottom of a 9 inch round cheesecake pan. Bake for 10 minutes and let cool.
In a metal bowl, using an electric mixer, beat the whipped cream until stiff peaks form. Set aside.
In another mixing bowl, beat the cream cheese, sugar and vanilla until smooth.
Drain the juice from the thawed strawberries. Add enough milk to make 1 cup liquid, and stir into cream cheese mixture.
Put the water in a small saucepan. Add the gelatin and stir over low heat until dissolved. Gradually add the dissolved gelatin to the cheesecake mixture.
Divide the reserved strawberries in half. Puree about half of them and add to the batter. You will use the rest for the topping, so keep the processor handy.
Fold the whipped cream into the batter, then pour the mixture into the cheesecake pan and chill for a few hours or until firm.
To make the strawberry puree topping, puree the remaining strawberries and add sugar to taste. Garnish cheesecake with the strawberry puree and sweetened whipped cream.
Recipe by
Cookie Madness
at https://www.cookiemadness.net/2012/11/smooth-strawberry-cheesecake/