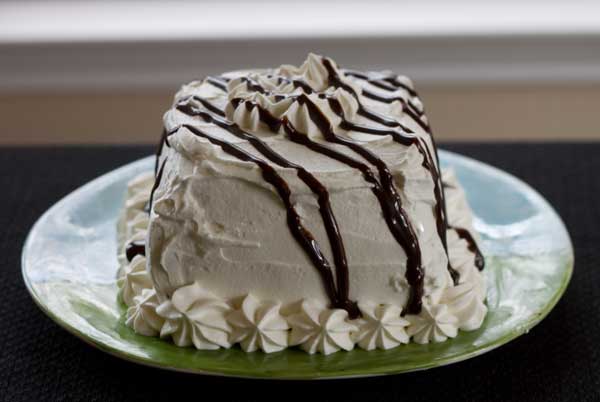 Author: Cookie Madness
Prep time: 60 mins
Cook time: 12 mins
Total time: 1 hour 12 mins
Black forest cake made with chocolate cake layers, cherry filling and fresh whipped cream
Cake
1/4 cup plus 2 tablespoons (1.7 ounces) all-purpose flour
1/4 cup Dutch process or Hershey's Dark cocoa powder
5/8 teaspoons baking powder
1/4 teaspoon salt
3 large eggs, separated and at room temperature
1/2 cup plus 2 tablespoons granulated sugar
1/2 teaspoon vanilla
Cherry Filling
1 (14.5 ounce) can pitted tart cherries
1/2 scant cup granulated sugar
2 tablespoons cornstarch
1/2 teaspoon vanilla extract
1/8 teaspoon almond extract
Whipped Cream and Garnishes
2 1/2 cups heavy whipping cream
1/2 cup confectioners' sugar
1 teaspoon vanilla extract
Chocolate syrup and a stemmed cherry
Preheat oven to 350 degrees F. Grease a 10x15 inch pan and line with wax paper. Grease and flour the wax paper.
Sift together the flour, cocoa powder and baking powder, then stir in the salt. Set aside.
In a bowl, beat the egg whites until foamy, then gradually add the sugar, beating until soft peaks form.
In a second bowl, beat the egg yolks until thick and lemon colored. Beat in the vanilla, then stir the egg yolks into the whites.
Fold the flour mixture into the egg mixture.
Spread the mixture evenly across the pan. It will seem thin, but will puff up in the oven.
Bake for 12 minutes or until layers appear set. Loosen from the edges with a knife, and then carefully turn onto a wire rack. Remove pan and carefully peel away the paper. Let cool completely.
Prepare the filling. Drain cherries, reserving 1/4 cup juice. Combine reserved 1/4 cup juice, cherries, 1/2 cup sugar and cornstarch in a saucepan. Cook over medium heat until thickened, stirring constantly. Remove from heat and let cool slightly. Stir in extracts and let cool completely.
Prepare the whipped cream. Combine whipping cream and confectioner's sugar in a large mixing bowl. Beat with an electric mixer at high speed until stiff peaks form. Beat in vanilla.
Assemble the cake. Cut the cake into 6 squares. Put one square on a cake plate and spread about 3 tablespoons to 1/4 cup of whipped cream over it. Spoon about 3 tablespoon of the cherry filling across it. Repeat, layering squares of cake, whipped cream and filling, until you have a stack. Cover the entire stack with whipped cream. Decorate by piping more whipped cream around edges, or garnish with chocolate syrup and a stemmed cherry.
I actually used nonstick foil instead of greased waxed paper, but the cake layer is very sticky and was difficult to pry off the foil. However, it was doable, so if you only have nonstick foil or parchment, you can use that. The brand of cherries I used was Oregon canned tart. They do break apart as you stir, but in this case it's beneficial because the broken cherries make stacking easier. If you use canned filling with big, fat, whole cherries, the cake may be a little wobbly. I think it would work, though.
Recipe by
Cookie Madness
at https://www.cookiemadness.net/2012/12/small-black-forest-cake/