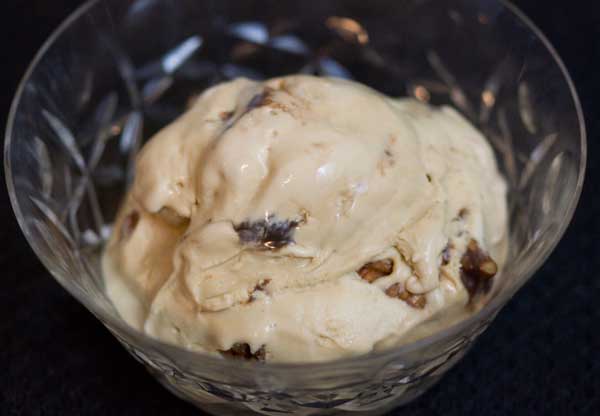 Coffee Fudge Swirl Ice Cream
Author: Cookie Madness
Prep time: 30 mins
Cook time: 1 min
Total time: 31 mins
An easy and very tasty coffee flavored ice cream with fudge topping swirled through
4 teaspoons Folgers Classic Roast Instant Coffee Crystals
1/2 cup hot water
1 (14 oz) can Eagle Brand condensed milk
2 cups heavy cream
1/4 teaspoon almond extract
Some cold fudge ice cream topping
Handful of toasted and chopped pecans
Combine the coffee and hot water in a large mixing bowl and stir to dissolve coffee. Let it cool.
Add the condensed milk, cream and almond extract and beat with an electric mixer for seven minutes or until light and fluffy.
Transfer it to an ice cream maker and freeze according to manufacturer's directions (or pour it into a pie shell to make the base of a magnificent ice cream pie!
When ice cream is frozen, scrape about 1/4 of it into the container you plan on storing it in. Add small dollops (however many you want) of cold fudge sauce, and continue layering remaining ice cream, fudge sauce and nuts (if using). Cover and freeze until it's firm enough to eat.
You can also make it without an ice cream maker. Mix as directed, but scrape into a loaf pan and freeze until firm.
Recipe by
Cookie Madness
at https://www.cookiemadness.net/2012/12/coffee-fudge-swirl-ice-cream/