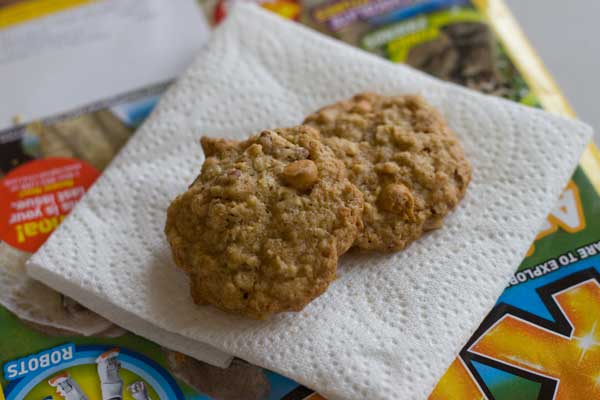 Butterscotch, Pecan & Toasted Wheat Germ Cookies
Author: Cookie Madness
Prep time: 10 mins
Cook time: 15 mins
Total time: 25 mins
Butterscotch, Pecan & Toasted Wheat Germ Cookies
2 sticks (8 ounces) unsalted butter, room temperature (though salted would be fine)
1 cup granulated sugar
1 cup light brown sugar, packed
2 teaspoons vanilla extract
2 large eggs
1 teaspoon salt plus an extra pinch if you like salt and are using unsalted butter
1 teaspoon baking soda
1 1/2 cups (6.8 ounces) white whole wheat or all-purpose flour
1/2 cup toasted wheat germ
2 cups quick cooking oats (not instant)
1 cup toasted and chopped pecans
1 1/2 to 2 cups butterscotch morsels
Preheat oven to 350 degrees F.
In the bowl of a stand mixer, beat the butter until creamy. Add both sugars and continue beating until creamy. Beat in the vanilla. Add the eggs and beat until mixture is lighter in color and fluffier (about 2 minutes). Beat in the salt and baking soda. Using lowest speed of the mixer or by hand, stir in the flour. When flour is incorporated, stir in the wheat germ, oats, pecans and butterscotch morsels.
Drop dough by rounded teaspoons, spacing about 2 1/2 inches apart, on ungreased cookie sheets. Bake cookies for 12-15 minutes (I liked them best at 15) or until nicely browned around the edges. Let cool on baking sheet for five minutes, then transfer to a rack to cool completely. Cookies should crisp as they cool. Makes about 64.
If you don't have a scale, be sure to stir your flour well before measuring.
Recipe by
Cookie Madness
at https://www.cookiemadness.net/2013/01/02/butterscotch-pecan-toasted-wheat-germ-cookies/