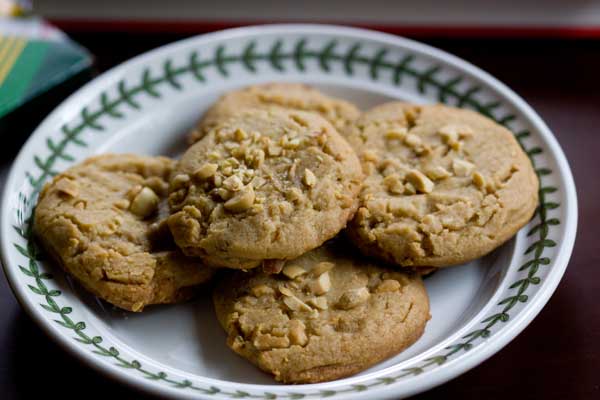 Double Peanut Butter Cookies
Author: Cookie Madness
Prep time: 10 mins
Cook time: 75 mins
Total time: 1 hour 25 mins
A peanut butter cookie with peanut butter in the center
1 1/2 cups (6.8 ounces) well stirred and aerated all-purpose unbleached flour
1/2 cup granulated sugar
1/2 teaspoon baking soda
1/4 teaspoon salt
1/2 cup coconut oil (or shortening) -- I weighed out a solid 96 grams
1/2 cup creamy peanut butter plus another 1/4 cup for filling
1/4 cup maple syrup (or corn syrup)
1 tablespoon milk (or nondairy milk)
In a mixing bowl, combine the flour, sugar, baking soda and salt. Add the coconut oil and stir until crumbly. Add 1/2 cup of the peanut butter and stir well, then add the maple syrup and milk and stir until you have a thick dough.
Shape the dough into a cylinder about 2 inches in diameter. Wrap it in plastic and chill for about an hour or until very firm.
Preheat the oven to 350 degrees F. and have ready two ungreased or foil lined baking sheets.
Slice 12 1/8 inch thick circles and arrange on a baking sheet. Spoon about 1/2 teaspoon of peanut butter in the center or each. Cut 12 more slices and lay over the peanut butter, then seal the edges. At this point, you can attempt to make criss-crosses, but try not to break the top and expose the peanut butter.
Bake for 10-12 minutes on center rack. While the first sheet bakes, repeat with remaining dough and peanut butter. Let the cookies cool on the baking sheet for about five minutes, then transfer to a wire rack to cool.
Cook time includes the chill time. The dough will be thick, but you still need to chill it so that it's firm enough to slice.
Recipe by
Cookie Madness
at https://www.cookiemadness.net/2013/01/03/double-peanut-butter-cookies-2/