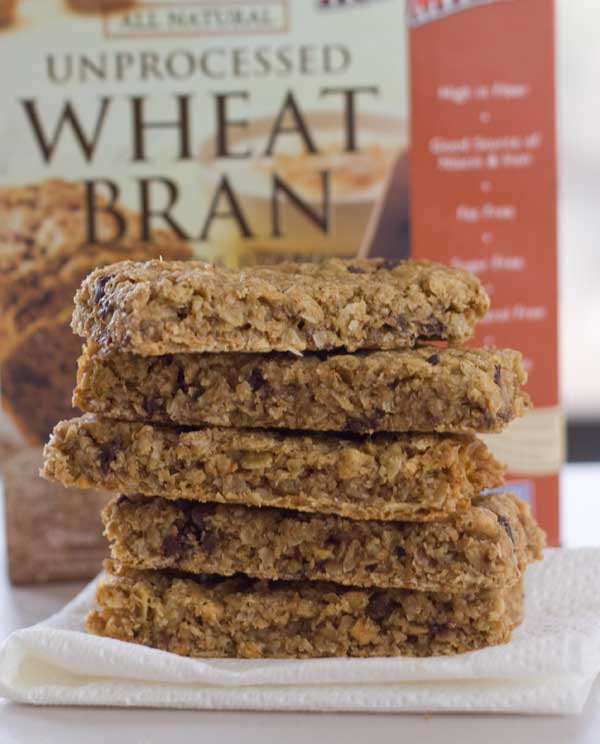 Chewy Wheat Bran Granola Bars
Author: Cookie Madness
Prep time: 10 mins
Cook time: 20 mins
Total time: 30 mins
Chewy granola bars made with wheat bran, oat bran, oats and peanut butter
1/3 cup butter, melted and cooled
1/2 cup corn syrup
2/3 cup peanut butter
1 cup brown sugar
1 1/2 teaspoons vanilla extract
1/2 teaspoon salt
1 1/4 cup oats
1 1/4 cups unprocessed wheat bran
1 1/4 cups oat bran
1/3 cup miniature chocolate chips (optional)
Preheat oven to 350 degrees F. Line a 9x13 inch metal pan with nonstick foil.
In a mixing bowl, stir together the butter, corn syrup, peanut butter, brown sugar, vanilla and salt. Add the oats, wheat bran and oat bran and stir well, then stir in the chocolate chips.
Press mixture into the lined pan and bake for 15 to 20 minutes. Let cool completely (this is important). Remove from pan and slice into bars. For chewier bars, put them in the refrigerator.
For a half batch, halve all the ingredients and use an 8 inch square metal pan. Also, I scored the bars while still warm and then without separating, let them cool completely. I'm not sure that was necessary, but if you are impatient and want to cut them before they are completely cool, you can. Just don't try to pull them apart! They hold together best after being completely cooled and if you have time, chilled.
Recipe by
Cookie Madness
at https://www.cookiemadness.net/2013/01/chewy-wheat-bran-granola-bars-2/