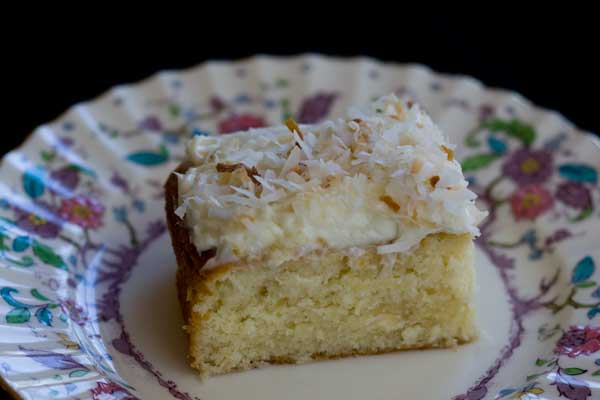 Author: Cookie Madness
Prep time: 20 mins
Cook time: 30 mins
Total time: 50 mins
A very dense, rich coconut cake made with Coco Real brand cream of coconut.
2 large eggs
1 stick (4 ounces) unsalted butter, softened
3/4 cup plus 1 tablespoon granulated sugar
1 teaspoon vanilla extract
1/2 cup plus 2 tablespoons cream of coconut (Coco Real)
1 1/2 cups (6.8 ounces) all-purpose flour
3/4 teaspoon baking powder
1/4 teaspoon salt
1/2 cup milk, room temperature
1/3 cup shredded or flaked sweetened coconut
Cream Cheese Icing
1/2 cup heavy whipping cream
4 ounces cream cheese, softened
2 tablespoons unsalted butter, softened
1 cup confectioners sugar
1 teaspoon vanilla
1/2 cup shredded or flaked sweetened coconut, lightly toasted
Preheat oven to 350 degrees F.
Thoroughly grease and flour an 8 inch square metal pan.
Crack the eggs and separate the yolks from the whites. Put the whites in metal mixing bowl and beat with a hand held electric mixer until soft peaks form. Set aside.
In a mixing bowl, beat the butter and sugar until creamy. Beat in the egg yolks and the vanilla, then beat in the cream of coconut.
In a separate bowl, stir together the flour, baking powder and salt.
Add the flour mixture and the milk to the batter alternately, stirring by hand just until flour is incorporated. Stir in the coconut.
Fold in the beaten egg whites.
Pour the batter into the pan and bake on center rack for about 40 minutes or until it appears set and springs back when touched. Let cool completely on a rack and frost with Cream Cheese Icing.
To make the icing, beat the cream until stiff peaks form and set aside. In a mixing bowl, beat cream cheese and butter until smooth and creamy. Gradually add the confectioner's sugar. Beat in the vanilla, then fold in the whipped cream. Spread over cake and sprinkle with toasted coconut.
To toast the coconut, lay it on a foil lined baking sheet and bake for about 5 minutes or until the edges of the coconut are brown (the coconut in the center should still be white). Toss it all together (toasted edges and less toasted center). If you'd prefer using buttermilk, add 1/4 teaspoon of baking soda to the batter. You can serve this cake straight out of the pan, but if you want to lift it from the pan and frost the sides, line the pan with foil and grease (or spray) the foil. That way you can just bake, cool, and lift!
Recipe by
Cookie Madness
at https://www.cookiemadness.net/2013/01/friday-night-coconut-cake/