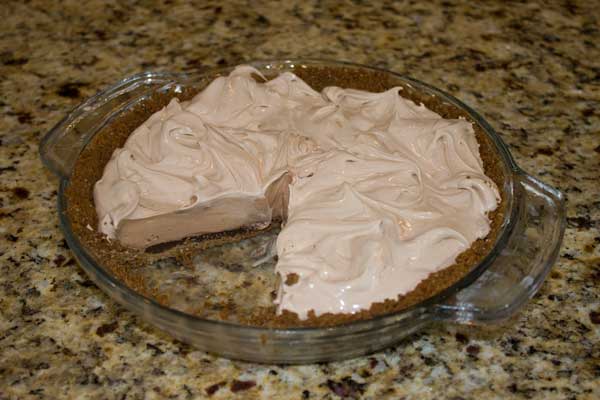 Author: Cookie Madness
Prep time: 10 mins
Cook time: 300 mins
Total time: 5 hours 10 mins
Chocolate Pie
1 (6 oz) pie crust (or your favorite homemade), prepared as directed
1 cup dark chocolate chips, divided use
2 tablespoons plus 1/4 cup milk, I used whole, divided use
1 1/2 cups miniature marshmallows
8 ounce container of frozen whipped topping, thawed
Measure out 1/3 cup of the chocolate chips and mix with 2 tablespoons of the milk. Put in a microwave-safe bowl and heat on high for 20 seconds. Stir until chips are melted. If needed, microwave for another 20 seconds. Spread over the bottom of the pie crust and put in the refrigerator to set.
Put the remaining 2/3 cup of chips, marshmallows and 1/4 cup of milk in a saucepan and heat over medium, stirring constantly, until melted. Transfer to a large bowl and let sit for about 30 minutes or until completely cool.
Fold about 2 cups of the whipped topping into the chocolate mixture. Spread about 2/3 of that mixture over the crust. Add whatever is left in the tub of whipped topping (a little over a cup) to the remaining chocolate mixture in the bowl. Spread over the top of the pie.
Cover and freeze 6 to 8 hours or overnight.
If you want to make a ginger crust, mix 1 1/2 cups gingersnap crumbs, 1 tablespoon of sugar and 4 tablespoons of melted butter together. Press into a 9 inch pie dish and bake for 10 minutes.
Recipe by
Cookie Madness
at https://www.cookiemadness.net/2013/01/22/another-easy-chocolate-pie/