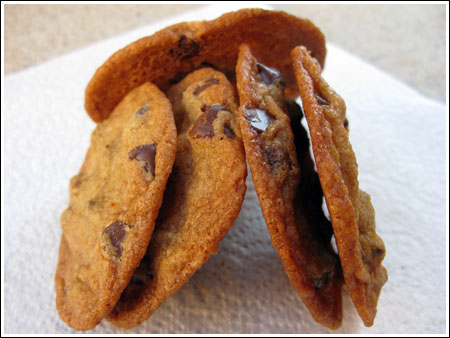 More Thin & Crispy Chocolate Chip Cookies
Author: Cookie Madness
Prep time: 20 mins
Cook time: 30 mins
Total time: 50 mins
Perfect thin and crispy chocolate chip cookies
1 stick (4 ounces) unsalted butter, room temperature
1/2 cup granulated sugar
1/2 cup packed light brown sugar
1/2 teaspoon vanilla
1 large egg
1 cup plus 2 tablespoons flour (140 grams/5 ounces)
1/2 teaspoon baking soda
1/2 teaspoon salt
1 cup dark chocolate chips
Preheat the oven to 300 degrees F.
Beat the butter until creamy using an electric mixer. Beat in both sugars, and vanilla. When creamy, beat in the egg. When egg is mixed in, beat in salt and baking soda. Add flour and stir until it is almost blended in. Add the chocolate chips and stir until all flour disappears.
Line two large baking sheets with regular foil.
Using a 1/4 teaspoon measure, scoop up rounded spoons of dough, each with about 3 chocolate chips (you'll have what appears to be a lot of chips and a tiny bit of dough). Shape into marble size balls and arrange on baking sheets spacing about 1 1/2 inches apart.
Bake one sheet at a time for 25 minutes or until cookies are evenly browned. Let cool slightly, then remove from baking sheets to finish cooling.
Baking at a very slow and low temperature helps the inside and outside cook evenly, giving you a uniformly crisp texture throughout. The number of cookies is approximate. I recommend baking one sheet of 20 (or so) just to nail down the exact bake time in your oven.
Recipe by
Cookie Madness
at https://www.cookiemadness.net/2013/01/crispy-mini-chocolate-chip-cookies/