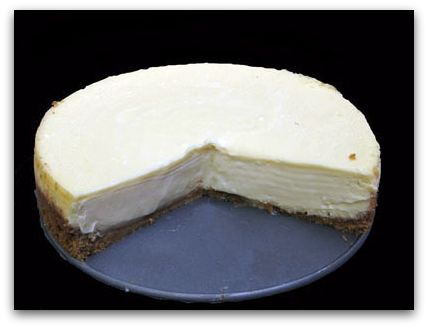 Ultra Creamy Deluxe Cheesecake
Author: Cookie Madness
Prep time: 10 mins
Cook time: 600 mins
Total time: 10 hours 10 mins
A very creamy, dense cheesecake without any cracks
Graham Cracker Crust:
24 graham cracker squares (not rectangles), crushed
3 tablespoons granulated sugar
6 tablespoons melted butter
Filling:
5 (8 oz) packages cream cheese, softened (2 ½ pounds)
1 teaspoon vanilla extract
1/2 teaspoon orange extract
1/2 teaspoon lemon extract
1 3/4 cup granulated sugar
3 tablespoons flour
1/4 teaspoon salt
5 medium size eggs at room temperature
1/4 cup heavy cream
Preheat oven to 350 degrees F.
Prepare crust ahead of time by mixing all ingredients together and pressing into bottom and slightly up sides of a buttered 9 inch round springform pan. Chill until ready to use.
Beat cream cheese in a large mixing bowl until it is very soft and creamy. Try not to whip extra air into it. If you are using a standing mixer, use the paddle attachment and set it on a lower speed. If you are using a hand held mixer, use a low speed plus a mixing spoon.
Beat in the vanilla, orange and lemon extracts.
Stir sugar, flour and salt together in a separate bowl, then mix them (again, using lowest speed) into the cream cheese. Add eggs one at a time, mixing thoroughly after each egg.Add cream and stir or beat on low until it is incorporated. Pour the batter into the pan.
Set the pan in a cool spot and let it sit for 5 to 10 minutes. Air bubbles will rise to the top during the standing period which will help the cheesecake bake up denser.
Bake the cheesecake on at 350 degrees F for 15 minutes.
After 15 minutes, without opening the oven door, reduce the heat to 200 degrees and set the timer for one hour. After cheesecake has baked for one hour at 200, turn off the oven and open the door slightly. Cake will appear wiggly and uncooked in the center, but the edge should be set. Let cool in the oven (door ajar) for 15 minutes. Transfer to counter and carefully loosen edges with a knife – this will help prevent cracking during cooling.
Cool on a rack at room temperature for about an hour. Transfer to refrigerator for the final chill. The cake should be ready to serve after 3 hours, but it's better after 12, so if you can wait, then serve it on Day 2.
Cook time takes into account a thorough chill time. Cheesecake is usually better on Day 2.
Recipe by
Cookie Madness
at https://www.cookiemadness.net/2008/07/ultra-creamy-deluxe-cheesecake/