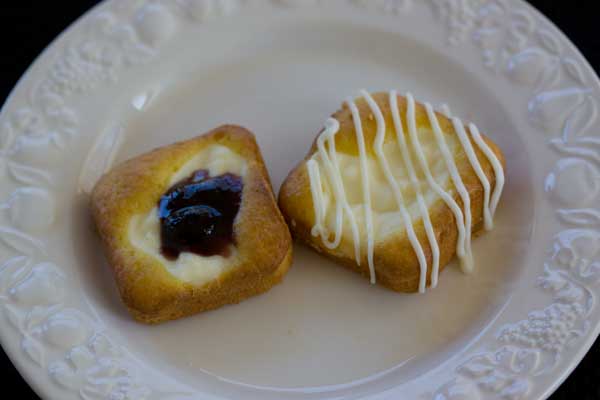 Author: Cookie Madness
Prep time: 10 mins
Cook time: 19 mins
Total time: 29 mins
Lemon cheesecake squares made in a Calphalon nonstick bar cookie pan.
Filling:
8 oz cream cheese, cool room temperature
1/4 cup granulated sugar
1/8 teaspoon salt
1 large egg white, room temperature
1 tablespoon sour cream, room temperature
Cake:
1 cup plus 2 tablespoons (129 grams) of lemon cake mix (1/4 of a box)
2 tablespoons lemon instant pudding mix
1 large egg
4 teaspoons of vegetable oil
1/4 cup water
Garnish: Blueberry Ice Cream Topping or melted white chips
Preheat oven to 350 degrees F. Spray 12 squares of a Calphalon Classic bar cookie pan with flour-added baking spray.
With an electric mixer, beat the cream cheese and sugar just until smooth. Add the egg white and mix on the lowest speed of mixer just until blended -- do not overbeat the egg white; stir in the sour cream. Set aside.
In another bowl, mix the cake mix, pudding mix, egg, oil and water and beat with a hand held mixer until smooth.
Spoon tablespoonfuls of lemon batter across bottom of each square and gently spread so that each square is covered.
Put a generous tablespoon of cream cheese batter over the lemon batter.
Bake for 18 minutes or just until the tops and bottoms appear set. Let cool for about 10 minutes in the pan, then carefully pry cakes out of pan and set on a cooling rack. Transfer to the refrigerator to cool and chill.
for the garnish, put a bit of blueberry ice cream topping in the middle, or put some white chips in a heavy duty freezer bag, microwave on high for 30 seconds, knead bag a little, and repeat until melted. Snip off bottom corner and pipe over cakes.
If you don't have a square bar pan, you should be fine with a muffin cup and paper liners. Store your leftover cake mix in the freezer. I usually empty it into a freezer bag, label it, and store it in the freezer. You can use the remaining cake mix in another batch of these, or use it to make a half batch of cupcakes.
Recipe by
Cookie Madness
at https://www.cookiemadness.net/2013/02/lemon-cheesecake-squares-or-cheese-danish-squares/