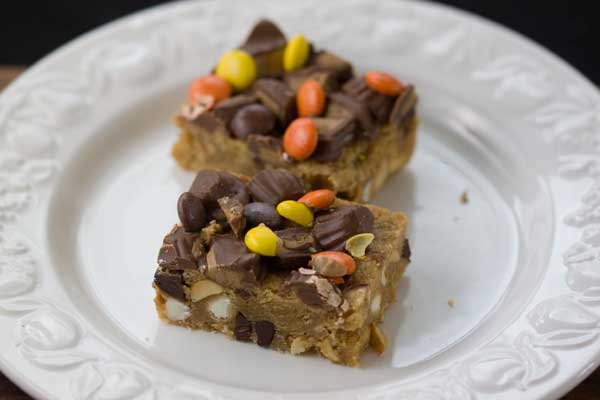 Author: Cookie Madness
Prep time: 10 mins
Cook time: 22 mins
Total time: 32 mins
Dense, moist, peanut butter bars topped with Mini Reese's.
1 cup (9 oz) peanut butter (I weighed it out on a scale)
6 tablespoons unsalted butter, softened
1 1/4 cup granulated sugar
3 large eggs, lightly whisked in a separate bowl
1/4 teaspoon plus a big pinch of salt (omit the pinch if using salted butter)
2 teaspoons vanilla extract
1 1/2 cups (6.8 ounces) well stirred and carefully measured unbleached all-purpose flour
2/3 cup white chips
1/2 cup chopped lightly salted peanuts
1 cup dark chocolate chips, plus about 1/2 cup more (if needed)
1 cup Mini Reese's Peanut Butter Cups
1/2 cup Reese's Pieces (optional)
Preheat oven to 350 degrees F. Line a 9x13 inch metal pan with foil and spray with baking spray (or just use nonstick foil).
In a mixing bowl, using a handheld mixer, beat the peanut butter, softened butter and sugar until smooth. By hand, stir in the eggs, salt and vanilla stirring just until mixed. Add the flour and stir just until mixed.
Stir in white chips, peanuts and a cup of the chocolate chips. Press firmly into pan.
Bake on center rack for 23-25 minutes or until center is set.
Remove from oven and Immediately scatter the halved Reese's Minis over the top. Sprinkle more chocolate chips (or Reese's Pieces) into the gaps.
Let cool at room temperature for about 10 minutes, then transfer pan to a larger pan (a roasting pan). Put ice water in the pan so that it comes about halfway up the sides. Let cool in pan.
For a half batch, use an 8 inch square metal pan and halve all the ingredients. That means 1 large egg plus 2 tablespoons beaten egg.
Recipe by
Cookie Madness
at https://www.cookiemadness.net/2013/02/reeses-minis-peanut-butter-bars/