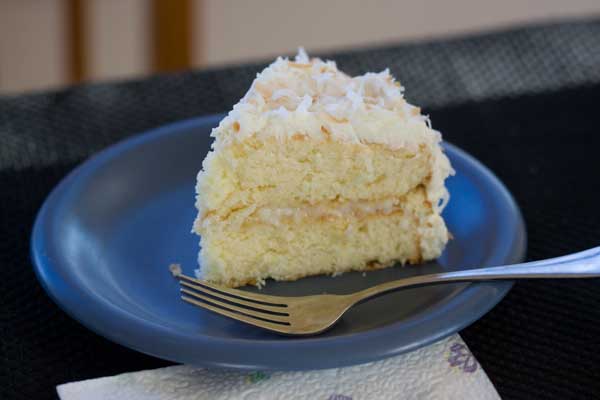 White Lily Celebration Coconut Cake -- Small
Author: Cookie Madness
Prep time: 10 mins
Cook time: 25 mins
Total time: 35 mins
White Lily Celebration Coconut Cake Small Version
Cake
1 1/2 cups (6 ounces) White Lily® Enriched Bleached All Purpose Flour
1 teaspoon baking powder
1/4 teaspoon plus a pinch salt (omit if using salted butter)
1/2 cup (4 oz) unsalted butter, softened
1 cup sugar
2 large eggs, room temperature
1/2 cup whole milk, room temperature
1/2 to 1 teaspoon vanilla extract (I used 1)
Filling/Frosting
3/4 cup sugar
1/2 cup sour cream
1 cup sweetened flaked coconut, loosely packed
3/4 cup heavy cream, whipped
More (about ½ cup) sweetened flaked coconut for garnish.
Preheat oven to 350º F. Spray two 8 inch round metal pans with flour-added cooking spray.
Mix the flour, baking powder and salt together in a bowl and set aside.
Beat the butter with an electric mixer on medium until light and fluffy. Gradually add sugar, and continue mixing until very light. Add eggs, one at a time, beating one minute after each addition.
Stir 1/3 of flour mixture into egg mixture until blended. Stir in 1/4 cup of milk until blended and repeat, ending with the remaining flour. Stir in vanilla extract.
Divide batter evenly between pans. Bake 20 to 25 minutes (mine took the full 25), or until toothpick inserted in the center comes out clean. Cool on wire rack 10 minutes before removing from pans. Let cool for 10 minutes, then turn from pans and let cool completely.
Filling: Stir sugar, sour cream and 1 cup of coconut together. Spread some of this mixture on the cake, leaving behind about a cup – I just eyeballed it.
Frosting: Fold the reserved cup (or so) of sour cream mixture into the whipped cream. Spread all over the cake and put it in the refrigerator.
Lay the remaining coconut on a f oil lined baking sheet and bake at 350 for about 6 minutes or until edges are browned. Toss it all together so that the coconut is tan and white. Let it cool, then slap it all over the cake.
Chill the cake for at least one hour or until ready to use.
Recipe by
Cookie Madness
at https://www.cookiemadness.net/2013/02/white-lily-celebration-coconut-cake/