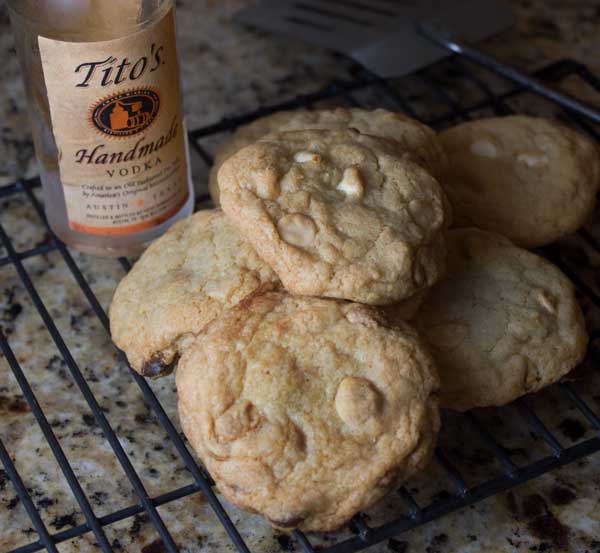 White Chip & Vodka Cookies
Author: Cookie Madness
Prep time: 10 mins
Cook time: 15 mins
Total time: 25 mins
White chocolate chip cookies with a little Vodka in them.
1 stick (4 ounces) unsalted butter, room temperature
1/2 cup (3.4 ounces) shortening**
1 cup packed light brown sugar
1 cup granulated sugar
2 large eggs
1 teaspoon vanilla
2 tablespoons Vodka
2 2/3 cups (12 ounces) unbleached all-purpose flour**
1/3 cup cornstarch
1 teaspoon baking soda
1/2 teaspoon salt
2 cups white chips
Preheat oven to 375 degrees F.
In a mixing bowl, using low speed of a stand mixer, beat the butter, shortening and both sugars just until mixed (not light and fluffy, just mixed). Gradually add the eggs, stirring just until blended. Then stir in the vanilla and Vodka.
Combine the flour, cornstarch, baking soda and salt in a separate bowl and stir well. Add the flour mixture to the butter mixture and stir until blended. Stir in the white chips.
Drop dough by rounded tablespoons onto a parchment or nonstick foil lined baking sheet. Bake for 12-15 minutes or until cookies are nicely browned all over. Makes about 32 to 36 depending on how large you make the cookies
If you don't have a scale and can't weigh out 12 oz of flour, measure by volume using a very light hand. That is, scoop the flour into the cup and level it off with a knife.
Recipe by
Cookie Madness
at https://www.cookiemadness.net/2013/02/10/white-chip-vodka-cookies/