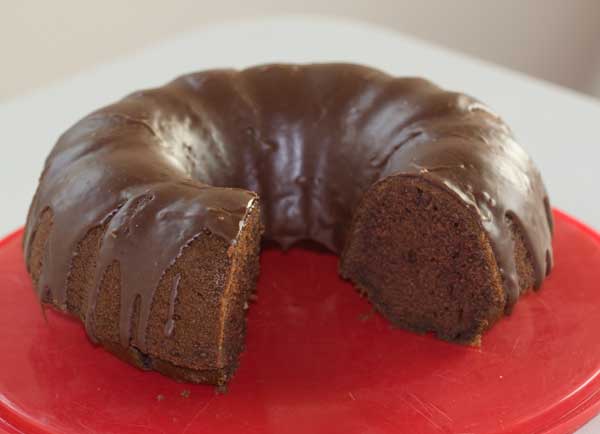 Author: Cookie Madness
Prep time: 10 mins
Cook time: 50 mins
Total time: 1 hour
Mini Bundt Pan Chocolate Tato Cake
4 oz. semisweet chocolate, chopped (2/3 cup chips okay)
1 cup Hungry Jack® Instant Mashed Potato Flakes
1 cup boiling water
1 3/4 cup (7.8 oz) all-purpose flour or 1 3/4 cup plus 3 T (7.8 oz) White Lily
1 1/4 cups granulated sugar
1 1/4 teaspoon baking soda
1 teaspoon salt
1 teaspoon vanilla extract
4 tablespoons unsalted butter
1/4 cup vegetable oil
1/2 cup sour cream, room temperature
3 large eggs, room temperature
1/2 cup miniature semisweet chocolate chips, optional
Glaze
4 oz. semisweet chocolate, chopped (2/3 cup chips okay)
3 tablespoons water
1 tablespoon butter
1 cup powdered sugar, sifted
1/2 teaspoon vanilla extract
Preheat the oven to 350°F. Spray a 12-cup fluted tube pan or 10-inch tube pan with no-stick cooking spray.
Put the chocolate and potato flakes in a mixing bowl. Add boiling water and let stand 5 minutes or until potato flakes are softened and chocolate is melted. Stir to combine.
Add flour and all remaining cake ingredients except chips, to potato flake mixture. Blend at low speed until moistened. Beat 3 minutes at medium speed (Note: I just mixed everything really well with a spoon, then stirred for about a minute to remove lumps. There were still a few lumps from the potato flakes, but they were gone after baking). Make sure batter is not to warm, then throw in the chocolate chips (if using). Pour batter into prepared pan.
Bake 45 to 60 minutes or until toothpick inserted near center comes out clean. Cool upright in pan for 30 minutes. Invert onto serving plate. Cool 1 hour or until completely cooled.
To make the glaze, melt 4 oz. chocolate with 3 tablespoons water and 1 tablespoon butter in small saucepan over low heat. Remove from heat. Add powdered sugar and 1/2 teaspoon vanilla. Beat until smooth. Stir in additional water, a few drops at a time if needed (I didn't need any), for desired glaze consistency. Immediately spoon glaze over cooled cake, allowing some to run down sides.
Recipe by
Cookie Madness
at https://www.cookiemadness.net/2013/02/chocolate-tato-cake-and-chocolate-glaze/