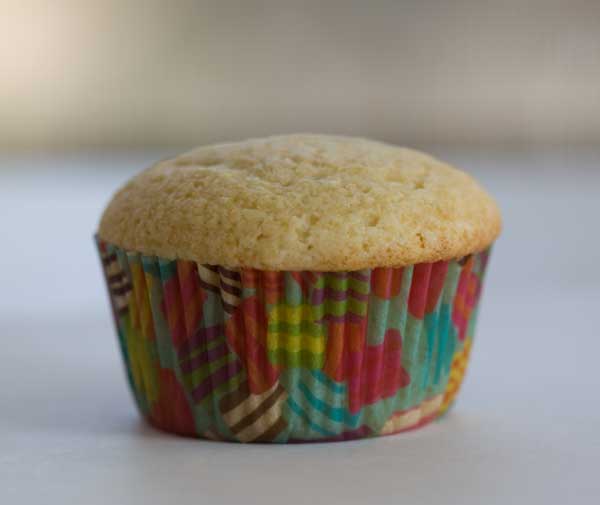 Author: Cookie Madness
Prep time: 10 mins
Cook time: 20 mins
Total time: 30 mins
An easy scratch vanilla cupcake recipe
2 1/2 cups (315 grams) all-purpose flour or 2 ¾ cup plus a tablespoon (315 grams) cake flour
2 teaspoons baking powder
1/2 teaspoon baking soda
1/2 teaspoon salt
3 large eggs at room temperature
8 tablespoons (115 grams) unsalted butter or shortening or a mix of both
1 cup (196 grams) granulated sugar
1/2 cup room temperature whole milk or buttermilk
1 tablespoon vanilla extract
1/2 cup vegetable oil
Preheat oven to 400 degrees F. You will bake the cupcakes at a lower temperature, but the oven needs to get off to a hot start.
Line 20 to 24 cupcake cups with paper liners.
Thoroughly mix the flour, baking powder, baking soda and salt in a bowl and set aside.
Crack the eggs into a separate bowl and beat lightly with a fork.
In the bowl of a stand mixer with the paddle attached, beat the butter until it is creamy. Add the sugar and beat for about 4 minutes.
With the mixer on low or medium, gradually add the beaten eggs, about a tablespoon at a time.
Mix together the milk, vanilla and oil.
Using lowest speed of mixer OR by hand using a heavy duty scraper, add the flour mixture and milk mixture alternately, beginning and ending with flour and stirring until smooth.
Divide batter among cupcake cups so that it cups are about ¾ full. Put the pans in the 400 degree oven and immediately reduce heat to 350. Bake for 20 minute or until tops spring back when lightly touched. Let cool completely.
Cupcake yield might vary depending on how much you put in the cups and the size cups you're using, but you should get at least 20 cupcakes.
Recipe by
Cookie Madness
at https://www.cookiemadness.net/2013/02/vanilla-buttermilk-cupcakes-3/